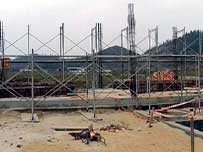 Dung Quat Oil Refinery is under construction.
On May 17, a competitive program was launched to boost the construction of the Dung Quat Oil Refinery at the Dung Quat Economic Zone for the Ministry of Construction and more than 10 contractors.
The launchers were the Viet Nam General Confederation of Labor and the Viet Nam Oil and Gas Corporation (Petro Vietnam). The refinery will be able to refine 6.5 million tonnes of crude oil annually, meeting about 30 percent of the domestic demand for gas and oil.
Accordingly, the construction of breakwater, conveying channel, delivery dock (Bid Package 5A, 5B) has to be completed in the middle and the end of 2007 respectively, paving the way for timely completion the power plant, processing zone, non-port oil filling system, crude oil conducting pipelines and the pipelines to conduct the refined oil to storage (Bid Package 1, 2, 3, 4). All must be completed between the end of 2008 and early 2009.