The Dung Quat Oil Refinery delivered its first batch of liquefied petroleum gas (LPG), 7,000 cubic meters, for the domestic market on July 4.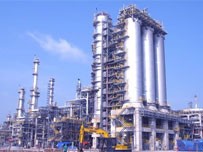 A view of the Dung Quat Oil Refinery in the central province of Quang Ngai.
It will take two days for the LPG to be shipped before it can be sold and used around the country.
The refinery, operated by Binh Son Oil Refinery, has produced around 13,000 cubic meters of LPG and nearly 20,000 cubic meters of A92 gas.
The successful production of LPG is a landmark for Dung Quat in perfecting its technology systems.
Binh Son will also bring 5,000 to 7,000 cubic meters of A92 gas to the domestic market and export its propylene to Japan on July 8 and 9.
The Dung Quat Oil Refinery marketed its first products on February 22, also a landmark in Vietnam's oil and gas industry development, meaning the country can now sell gasoline that has not been imported.
The refinery, the heart of Vietnam's petro-chemical industry, covers 337 hectares of land and 471 hectares of sea, with a capacity to refine 6.5 tons of oil per year, or 148,000 barrels per day.
The refinery will eventually consist of 14 processing facilities, ten support energy facilities and eight others, which will produce LPG, propylene, A90/92/95 gasoline, kerosene, jet fuel, diesel oil and fuel oil.
When the refinery goes into full production, it could meet 33 percent of local demand, which could in turn keep local gasoline prices down.
The petro-chemical industry has a sweeping impact on the national economy, and the refinery will help Vietnam ensure energy security and drive the industrialization and modernization process.
Costing more than US$3 billion, the oil refinery will contribute to the State's finances to enable the Government to implement its socioeconomic development targets.
The Dung Quat plant will run at full capacity on August 25.