The Dung Quat Oil Refinery plans to produce 4.9 million tons of petroleum products in 2011.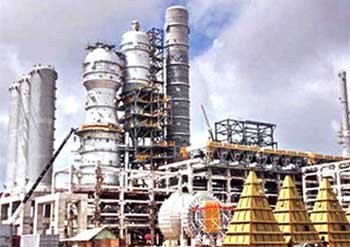 A view of Dung Quat Oil Refinery in the central province of Quang Ngai.
It is also working with other potential trading partners for sales of all products the Dung Quat refinery produced.
By Nov. 9, 2010, the refinery had produced and sold 6.2 million tons of petroleum products worth VND59.4 trillion .
With the staff of over 1,000 officials, engineers and workers, Vietnam's first oil refinery is producing non-lead petrol, LPG, Propylene, Jet A1/KO, DO, FO and sulphur.
It plans to put two crude oil tanks with a combined capacity of 130,000 cu. m into use by late 2011.
The two new tanks worth USD40 million  will increase the Dung Quat refinery's tanks to eight, with a combined storage capacity of 520,000 cu. m of crude oil, sufficient for the plant to operate continuously in 14-16 days.
In addition, the Dung Quat refinery is working on a project to increase its yearly capacity from 6.5 million tons to 10 million tons.
With the current 6.5 million ton capacity, the USD3 billion  Dung Quat refinery can meet up to 30 percent of the needs for petroleum products in the country.
The plant is expected to satisfy higher petroleum needs and form the country's first oil refinery consortium once it runs with the expanded capacity.
The Dung Quat Oil Refinery started its operation in February 2009.
Related article:
Vietnam's first oil refinery supplies jet fuel