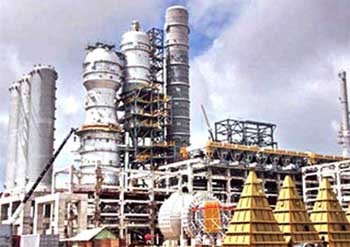 view of Dung Quat Oil Refinery in the central province of Quang Ngai.
The Binh Son Petrochemical Company under the Vietnam National Oil and Gas Group (Petrovietnam) announced on March 31, that the Dung Quat Refinery would carry out overall maintenance of its plant after two years of operation.
The overall maintenance will take place for more than 2 months from the middle of July to middle of September, 2011 with the participation of thousands of Vietnamese and foreign experts and workers.
On the same day, a US$25 million contract was signed between the Binh Son Petrochemical Company and its foreign contractors Jcon Dong-II, Ubee firm and Deachang of Korea.