The People's Committee of the central province of Quang Ngai has announced adjustments to the construction of Dung Quat Economic Zone by 2025.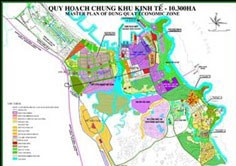 Plan of Dung Quat Economic Zone
The economic zone will cover a total area of 45,332 hectares, including the existing area of 10,300 hectares, expanding by 24,280 hectares on land and 10,752 hectares on the water surface.
The zone will receive diverse investments in businesses manufacturing industry, finance and services; particularly oil refineries, petrochemicals, steel mills, shipbuilding, cement production, automobile manufacturing and deep-water seaport industry.
Dung Quat Economic Zone will be developed as an open industrial city and will be the key economic centre of central Vietnam.