Each province in Vietnam will file lawsuits against 10-50 businesses for not paying social, health and unemployment insurances more than six months and big debtor names will be publicized on the media by December 31.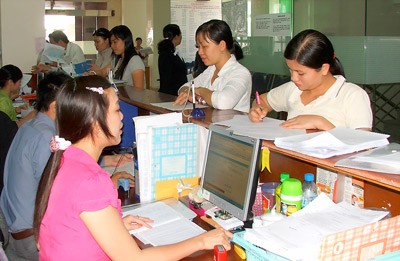 Workers at the reception counter of HCMC Social Insurance Agency (File photo: SGGP)
The announcement was made by Mr. Nguyen Tri Dai, head of Premium Collection Division under the Vietnam Social Insurance Agency, at a conference in Hanoi on December 13.
According to Mr. Dai, the agency has implemented many measures to collect premium arrears including coordination with provincial and municipal labor unions to sue the debtors. They are now preparing documents to start proceedings by the end of the month.
The agency has set target to reduce the ratio of businesses' social and health insurance debts to 2.9 percent this year.
Last month, the arrears were down 1.25 percent against the previous month but still accounted for 5.6 percent of the total premium, he said. Social, health and unemployment insurance arrears hit VND13,135 billion (US$578 million) in the country.
Deputy director of the Vietnam Social Insurance Agency Tran Dinh Lieu said that the agency would work with provinces and cities natiowide to unexpectedly inspect businesses over their insurance payment in December.
Each province will inspect 15 businesses in premium arrears for more than three months and issue fines.
The agency will transfer documents to police agencies for investigation to those deliberate not to pay the fines.