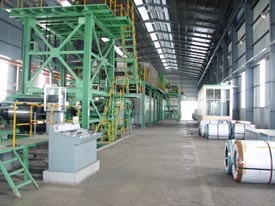 The modern production line of EAC. (Photo: T.C)
With the non-stop effort to modernize and develop its manufacturing technology, the East Asia Company (EAC) has just been awarded the Gold Cup for Trusted Quality Products by the Vietnam Brand (Thuong hieu Viet) Network.
The prize is held annually by the Viet Nam Union of Science and Technology Association (Vusta) to honor Viet Nam's high quality brands that are trusted by customers. Before the awards, EAC lead the industry by receiving more than 100,000 votes on the internet. The prize is to be awarded on September 9 in Ho Chi Minh City.
EAC also recently received international standard approval (ISO 9001-2000 from Quacert) on the manufacture and distribution of galvanized iron (GI) and pre-paint galvanized iron (PPGI).
Based on what has been achieved so far, vice director of EAC Le Kim Tuan said the company is competing with similar products from Thailand, Korea, Taiwan and other foreign countries on the domestic market while aiming for premium markets in America and Europe once Viet Nam joins WTO.
Moreover, the company will exhibit its products at the country's largest construction exhibition, VietBuild 2006, from September 7 to 12 in HCMC.
Related Articles:
East Asia Company Eyed Export Market in WTO Period