The Vietnamese Ministry of Trade has requested the European Commission to suspend its anti-dumping investigation of Vietnam's leather shoemakers, said Mr. Pham Van Minh, head of the ministry's European Department.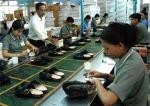 Footwear items made in Viet Nam (Photo: Duc Thanh)
He told a press briefing in Hanoi on December 21 that the ministry had also proposed EC to rethink about its conclusion that the eight investigated shoemakers in Viet Nam do not meet criteria of a market economy.
Mr. Nguyen Ngoc Lam, vice chairman of the Viet Nam Leather and Footwear Association (LEFASO), told the meeting that Vietnamese footwear makers could not be blamed for any dumping of their products on the European markets.
"As many as 80% of them have been performing outsourcing contracts from foreign companies, so they have no responsibility for setting export prices," he said.
The official added that the remaining 20% of enterprises, which export leather shoes directly to EU, are small in size and use old-fashion technology, thus having low productivity and weak competitiveness. Therefore, they are unable to cause losses or threaten to cause losses to EU footwear companies.
Though this anti-dumping case is still under investigation, the number of contracts from foreign partners to Viet Nam has reduced because it is likely that the country's leather shoes will be imposed a 130% anti-dumping tax.
Some foreign-invested footwear companies are considering moving their factories in Viet Nam to other countries to avoid facing the EU anti-dumping tariffs.
LEFASO vice chairman Lam said, "The future of the Vietnamese footwear industry is totally decided by the EU conclusion."
The EU is a major export market for Vietnam's shoes, accountable for up to 70% of the country's shoe export revenue. Vietnam's footwear exports to the EU value more than US$2 billion per year.
Related Articles: