Ho Chi Minh City and the central highlands town of Da Lat will establish e-commerce floor where farmers will up their flowers to sale and businesses will lay orders and carry out transaction.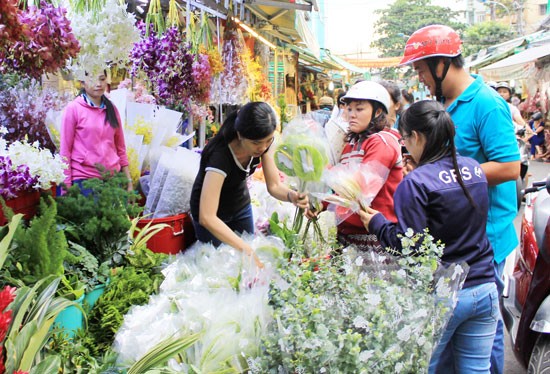 Fresh flowers are sold in Ho Chi Minh City in Woman's Day (Photo: SGGP)
However, at first, People's Committee of Da Lat Town and Saigon Trading Corp (Satra) set up a chain to supply high quality flowers.
The two sides will build two 14-16 hectare centers each to sell flowers in Da Lat and Binh Dien Wholesale Market in Ho Chi Minh City with international-level freezing warehouses.

All flowers will be kept in a freezing warehouse in a bid to keep its quality. At first flowers will be treated and packed in commerce centers and then transported to BInh Dien Market for distribution and export.

It is scheduled commerce centers will be operated in 2018. once sales of flowers is stable, the two sides will set up e-commerce floor where farmers advertise their products and businesses lay orders and purchase.

Currently, flowers are grown in around 8,000 hectare of agricultural land in Da Lat Town which is the biggest land in the country accounting for 50 percent of the whole country's productivity. However, flowers are not treated and its quality is not high; hence, export just achieved 10 percent.
HCMC is the largest market for flower; accordingly commerce centers are hoped to help farmers in dealing directly with businesses to have more profit.