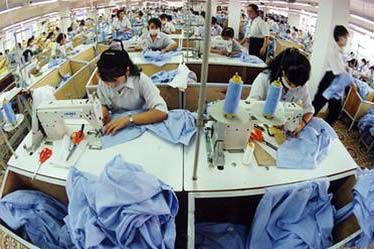 Textile and garment industry is one of the key industries in Dong Nai Province and Ho Chi Minh City
Permanent Deputy Prime Minister Nguyen Sinh Hung said on Sept. 23 that Viet Nam's economic hubs should prioritise the development of local key industries.
The Deputy PM made this recommendation during a conference of the steering committee for organisating and co-ordinating key economic areas in the country.
Deputy PM Hung asked all the key economic areas to prioritise the development of industrial and high-tech zones and to define the strong points of each locality. He also requested the relevant ministries and agencies to implement their plans as soon as possible, particularly those concerning new urban areas and industrial infrastructures.
Twenty-one cities and provinces in the Northern, Central and Southern economic hubs have had a high rate of GDP growth over recent years, registering an average 8.1 percent in the 2001-2005 period, slightly higher than the national level.
However, the Deputy PM said, more had to be done to accelerate socio-economic development in areas where shortcomings and weaknesses continued to exist.
Source: VNA