Approximately US$4.37 billion of foreign direct investment (FDI) was pumped into the Vietnamese economy in the first five months of this year, a year-on-year increase of 18.7 percent, reported the Ministry of Planning and Investment.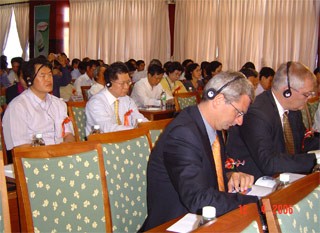 Viet Nam's improving business environment attracts increasing numbers of foreign investors (Photo: Hoang Yen)
Over US$3.7 billion was poured into 372 new projects, a year-on-year increase of 25 percent and 32.4 percent respectively.
 
In May alone, the country licensed 74 FDI projects with a total registered capital of US$827 million.
 
The majority of registered capital, 55 percent, went into the industry sector, with the service sector receiving 42.7 percent, and the remaining money invested into agro-forestry and fisheries industries.

The southern coastal province of Ba Ria – Vung Tau has attracted the largest amount of investment to date this year, more than the central province of Thua Thien – Hue and the Mekong Delta's Hau Giang Province.
 
Topping the list of major projects to get off the ground were: An Indian steel factory in Ba Ria-Vung Tau Province (worth US$527 million), a deluxe resort in the Chan May economic zone in Thua Thien-Hue Province (worth US$276 million), and a US$220 million paper and pulp mill financed by Thailand's Kraf Vina.
 
Among the countries to invest in Viet Nam during the first five months of the year, Singapore emerged as the largest investor with a total registered capital of US$776.6 million, accounting for 20.4 percent of Viet Nam's total registered capital.
 
The Republic of Korea stood second with US$733.8 million, accounting for 19.3 percent, followed by India with US$527.2 million and accounting for 13.9 percent.
 
Market observers have pointed to Viet Nam's improving business and investment environment and its adherence to international economic commitments as key drivers in attracting FDI into the country.
According to the Japan External Trade Organization (JETRO), Viet Nam's business environment now ranks third in Asia, after China and Thailand.