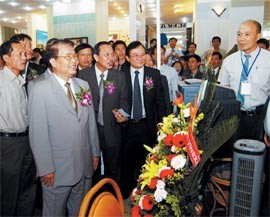 Vietnamese President Tran Duc Luong (second from the left) visits booths in the Viet Nam Expo 2006. (Photo:M.D)
On April 5, the 16th Viet Nam International Trade Fair-Viet Nam Expo 2006 was officially opened and attracted the participation of 450 local and foreign enterprises.
Under the theme of "Viet Nam-Integration and Development", the fair is an opportunity for Vietnamese enterprises working in major exporting industries to display their products as well as introduce their potentials to foreign partners.
On display are a wide range of products from food and drink processing, textiles and garments, interior furniture, agricultural and aquatic products, glass and plastics, handicrafts and fine arts, to construction and ores mining.
According to the Deputy Minister of Trade Luong Van Tu, Viet Nam Expo 2006 is a good bridge for enterprises to approach the advanced technologies; seek partners and sign business contracts, and enhance cooperation in investing for production of goods that can meet the domestic and export demand; contributing to the national cause of regional and international economic integration.
In the first day of the five-day fair, some local enterprises including the Upexim Company, Prime Group have successfully signed contracts to export their products to foreign markets of Taiwan and South Korea.
Related links: