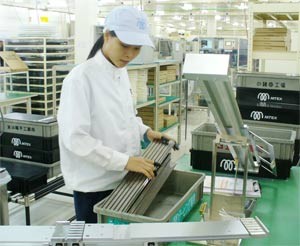 A worker of the MTEX Corporation in Tan Thuan Export Processing Zone, HCMC, is manufacturing electronic components. (Photo:TK)
A meeting for summarizing fifteen years of construction and development of Industrial Zones (IZs), Export Processing Zones (EPZs) and preliminary wrapping up the construction of Economic Zones (EZs) was held on July 14 in the Mekong Delta province of Long An.
The Vietnamese Ministry of Planning and Investment and the Long An provincial People's Committee jointly presided over the meeting.
Participants reviewed their achievements and discussed the real situations and shortcomings of the IZs, EPZs and EZs, regarding employees' strikes, minimum wage of workers at foreign-invested enterprises, developing process of the labor union system in enterprises, controlling measures of enterprises' investment and sanctions against violations of labor legislation.
Particularly, orientations and measures to develop the IZs, EPZs and EZs for the 2006-2010 period were also tabled for discussion.
Currently, there are 130 IZs covering a total area of over 25,500 hectares in 45 cities and provinces nationwide. The IZs attracted more than 4,500 investment projects with a total investment capital of nearly US$18 billion and VND103 trillion.
Not only contributing over US$650 million to the State budget in 2005, the IZs also accounted for 28% of the nation's total industrial production value and helped create jobs for approximately 740,000 direct laborers.