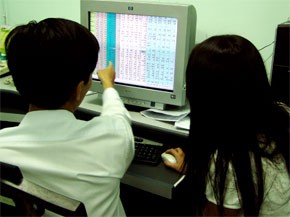 Investors in Ho Chi Minh City discuss values of shares listed on the local bourse. (Photo: Tuong Thuy)
July 18 saw big changes in the oil and gold prices in the world market, and impacts were also seen in Viet Nam. One dollar was equal to VND16,000 plus in the country that day, and this is the second time the rate has exceeded the VND16,000 level so far this year. The Vietnamese stock market's index lost 10.18 points, down to 484.13 points.
In the London market, the gold price peaked at US$674.25/ounce on 17 July and dropped to US$653.3 in the opening session on 18 July. The 18 July afternoon saw the gold price further down to US$647.6.
Analysts said there are many reasons, including the fact that the United Nations called for the sending of peace keepers to the Middle East, and the greenback's increasing value forced investors to rush to sell out gold.
In addition, the US economy is seeing promising signals and the market still pins hopes on the FED's plan for another interest rate increase. Many investors have come back to the greenback, pushing up its value against euro and yen. The EUR/USD rate hit the lower threshold of 1.262 and the USD/JPY broke the upper threshold of 116.7.
The US economy's figures show strong support for the US dollar. The crude oil price has decreased to US$75.3 per barrel after peaking at US$78.43. However, people still hold fear about the oil supply shortage in countries consuming lots of oil.
Gold market experts share a view that this oil price decrease is just a pause due to investors' decisions, and the tendency of gold price increases still exists.
In Viet Nam, the gold price was down by VND360,000-400,000 per tael on 18 July compared with the day before. SJC gold was sold at VND12.98 million per tael. The VND/USD rate exceeded VND16,000, up to VND16,050 per dollar after many days' stableness. This is the second time this year the rate has passed VND16,000.
On 18 July, the stock market's VN Index fell by 10.18 points (equal to 2.06%) to 484.13 points. The value of 30 out of the 40 listed shares dropped. This is the lowest of the index as from 30 March 2006. However, investors are still concerned about continual decreases.
When the index falls, foreign investors rush to buy in shares. Their current target is Sacombank shares, and more than 513,000 Sacombank shares were bought on 18 July. Their priorities also go to shares of GMD, DHA BMP and those of some other companies.