The Ministry of Trade on Saturday announced its decision about the recent controversial import of acetone-mixed gasoline of the Vietnam National Petroleum Corporation (Petrolimex) and the Military Petroleum Company.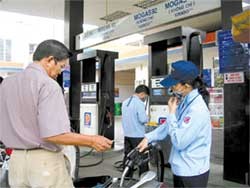 Consumers buy petrol at a filling station in Ho Chi Minh City

The case is affirmed to be a "technical" problem, not a trade fraud as the price of acetone was higher than that of gasoline at that time.

The ministry said it has worked with the Ministry of Science and Technology, the Viet Nam Association of Standard and Consumer Protection and the said-above companies to conclude the case.

The two importers said Viet Nam and many other countries have yet to given any regulation on acetone content in gasoline, which leads to the fact that both importers and state office ignored this requirement.

The acetone-mixed gasoline was sold to Viet Nam by the Singapore-based supplier, Switzerland's Glencore, and it has nothing to do with Vietnamese producers.

Glencore also admitted its fault and accepted to pay for damages. However, the company is only a supplier, not a producer so it could not give any answer to Viet Nam about the problem.

Meanwhile, Petrolimex withdrew all troublesome petrol (over 16,200 cubic meters) from filling stations, apologized and compensated the consumers VND14 million.

The Military Petroleum Company withdrew 3,750 cubic meters of petrol returned to the supplier, and compensated the consumers over VND442 million.