Three years after becoming a member of the World Trade Organization (WTO), Vietnam has gained both direct and indirect achievements in socioeconomic development and administrative reform, but it has also encountered several difficulties in adopting new policies.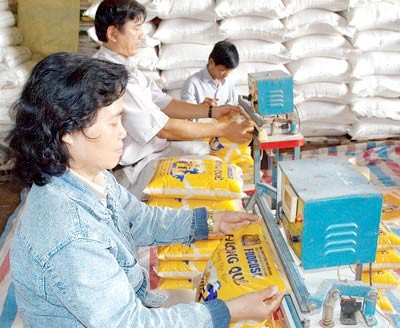 Workers package rice for export at Foocosa Company. After joining the WTO in 2007, many Vietnamese industries have benefited greatly (Photo: SGGP)
Successes
Since joining the WTO in 2007, Vietnam has attracted more than 4,000 foreign direct investment (FDI) projects worth over US$114 billion, 4.5 times higher than the target set for the 2006-2010 period.
The country's export turnover has also soared sharply. Export and import turnover in 2008 and 2009 reached US$150 billion each year, equal to over 160 percent of the country's GDP.
Vietnamese commodities have been exported widely to 150 countries and territories, with many sectors benefiting from WTO membership including labor-intensive industries like clothing, footwear and electronics.
Vietnamese goods are no longer discriminated against and domestic customers now have opportunities to buy a variety of imported goods at cheaper prices.
Joining the WTO has also raised people's awareness of international integration, which has changed Vietnam's global position and led to an extensive reworking of a number of the Government's policies.
The legal system has been streamlined and undergone many administrative reforms as well.
Former Deputy Prime Minister Vu Khoan said that 30 percent of administrative procedures have been reduced under international pressure to simplify processes.
Opening the market, removing tax barriers and subsidies, applying principles of non-discrimination, and implementing transparent policies have facilitated the development of local enterprises, and thus business standards have gradually improved.
Challenges
Since the country's WTO accession, however, not all enterprises have been informed about the Vietnamese Government's bilateral and multilateral commitments.
According to the Ministry of Industry and Trade, only 20 percent of businesses have taken full advantage of the country's WTO membership as related to tariffs and goods origin.
Therefore, many Vietnamese commodities have lost their competitive advantage.
Tariff cuts on meat imports applied in 2007 and 2008 were earlier set at higher rates than the country's WTO commitment.
The sudden cuts, without technical barriers, led to a mass import of meat into the country in 2009, ruining many local farmers while customers were inundated with poor-quality frozen meat.
In the financial sector, forecasting and macro management have seen embarrassments.
About 20 percent of small- and medium-sized enterprises have gone bankrupt because of an inability to access funds. A further 60 percent of companies have also faced a host of difficulties, especially in finding a balance between supply and demand due to a hike in input costs and a shortage of capital.
The former Deputy PM has said Vietnam is currently facing a dilemma of whether to focus on growth or quality, and that the two contradict each other.
Quality includes capacity, sustainability, and stability at the macro level in addition to social welfare. But if monetary policies are tightened to stabilize macro development, it will be hard to develop the economy.
Conversely, if monetary policies are loosened, growth targets can be hit, but macro development will be unstable, said Former Deputy PM Khoan.
The second dilemma is balancing local and foreign markets. At present, the foreign market makes up 60 percent of the country's GDP. However, if the local market isn't capitalized on, it will create favorable conditions for foreign enterprises to control the market.
Another dilemma is to what extent the Government should intervene in regulating the market. If the Government doesn't intervene, it will be unable to monitor and adjust market conditions. But on the contrary, if it is tightened, enterprises will find it hard to develop their businesses.
In order to take full advantage of the WTO membership and limit difficulties, economists have said more reforms need to be accelerated, and the country's quality of growth and enterprises' competitive capacity must be improved.