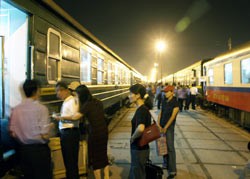 Traffic railway plays an important role in Viet Nam.
The Asian Development Bank (ADB) has approved a US$60 million loan to help restore an efficient rail link between Ha Noi and the border with China.
The loan, which covers almost 38% of the project cost of US$160 million, carries interest at 1.0% during the eight year grace period and at 1.5%, subsequently for rest of the 32 year term.
The railway system, 285 kilometers from Yen Vien station outside Ha Noi to the Viet Nam-China border in Lao Cai Province, was first built in early 1910s and has been deteriorated.

The project will promote trade links between the two countries by increasing rail traffic, the ADB said in a Wednesday announcement.

The bank said some 200,000 local people along the line should benefit. Consultations with them have indicated strong support for the project, which is also expected to generate direct and indirect jobs, as well lower transport costs and traveling time.

The Vietnam Railway Corporation will carry out the project, set for completion by the end of 2012.

Related article
Work Starts on Ha Noi Urban Railway