In the past five years, the Mekong Delta economy has grown and now needs to develop infrastructure to meet its development potential. Such was the review at a conference on the 2006 – 2010 socio-economic development plan for the Mekong Delta, which aims to develop the region into a key economic locale.
Construction of infrastructure, human resource training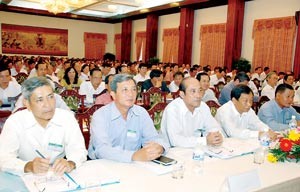 Delegates at the conference
The Mekong Delta economy has changed in an effort to make the most of its potential and develop infrastructure step by step. The region's economic growth rate has reached an average of 10.4% per year, said Planning and Investment Minister Vo Hong Phuc.

Transportation and irrigational infrastructure investments have gradually developed in the Delta and many new key projects helped meet the demand of socio-economic development.

Regarding aquaculture, shrimp and fish raising became a large and efficient production sector encompassing 485,000 hectares of land.

The region's export turnover was about US$1.45 billion, with the processing industry; especially sea-aquaculture, making up of 22.5% of the region's economic revenues and offering jobs to 6 million people.

However, the Planning and Investment Ministry said this growth rate is not sustainable as the infrastructure system has not met the developmental demand and the socio-economic situation still has many weaknesses.

Commercial and technical infrastructure has not helped facilitate product outputs. The region's per capita income is still low in the country.

Deputy PM Nguyen Sinh Hung said that rapid and sustainable development will require the planning and restructuring of infrastructure, intellectual and human resource development, as well as poverty reduction.

Disease diagnosed, treatment improper
An authority in Dong Thap province said the Mekong Delta has not developed to its potential due to poor technical infrastructure. Proper guidance has not been given; so many targets were set up but were hit too slowly. The region's resources have not been exploited to bring out the area's advantages.

This situation is like a disease which has been diagnosed but improperly treated. The disease, therefore, is uncured.

In order to reach its double growth rate in the next five years, the Mekong Delta region has to hit an average annual growth rate of 15%.

According to a Hau Giang province authority, strategy has to be by a comprehensive corporation among sectors.

Infrastructure development needs immediately focus on Can Tho City's quay, harbor and airport.

The infrastructure investment in the Mekong Delta will be costly as its land foundation is very soft. Construction of a one-kilometer road in the Mekong Delta will cost as much as a three-kilometer road in the east of Ho Chi Minh City.

The land's specificity, therefore, has to be taken into account in capital policy.

As well, quality of human resources and intellectual development in the region are lower than the rest of country. Many people are unemployed while the region lacks technical workers and managers. The Delta's human resources do not meet the demands for the region's development.

Trained labors occupy only 14% of the region's labors (25% for the whole country). The region's ratio of five students/10,000 inhabitants is Viet Nam's lowest.

Brave administrative decentralization and power delegation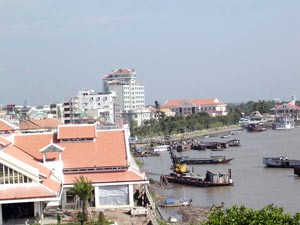 Can Tho City is developing day by day ( photo T.C )
A Bac Lieu province's authority said if there had been a comprehensive implementation, better cooperation amongst ministries, departments and localities and timely investment capital, the results would not be so bad.

The Mekong Delta region is the country's granary. Its turnovers of rice and aquaculture exports are biggest in the country. However, investment in the two sections is not correlative, especially in irrigation.

An authority in Ca Mau province said ministries and departments should cooperate with the Mekong Delta provinces to plan each province and region in terms of how the provinces affect each other.

In the past there have been cases in which project ministries and departments had to wait for localities and vice versa, causing prolongation of projects with negative consequences.

A solution for the problem is bravery in administrative decentralization, power delegation and capital use in investment of projects. Negative problems, therefore, will be solved as in the past there has been too much concentration on some sectors and proper distribution is required.

Long An province's authority said the Center laid down policy that allows provinces to propose which projects need investment.

In the reality, when transportation is invested synchronically, other fields will develop as well.

The conference, held in Ho Chi Minh City on July 18, was led by PM Nguyen Tan Dung and Deputy PM Nguyen Sinh Hung.