Despite big opportunities from free trade agreements (FTA) which will total 57 after the ASEAN Economic Community is established, experts have worried about big challenges to vulnerable agricultural industry.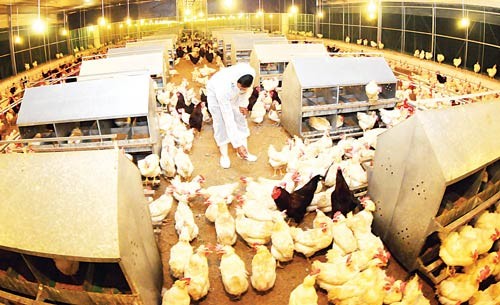 A chicken egg farm in Binh Duong province (Photo: SGGP)
The influence from FTAs to Vietnam's economy will be great especially from the Trans-Pacific Partnership (TPP), which will allow Vietnamese goods to access a 600 million people market holding 40 percent global gross domestic product and 26 percent goods value.
Vietnamese farm produce will have a chance to broaden market and reduce dependency on China.
At present, 35 percent of the country's rice export volume is to China, rubber 48 percent and wooden items 12.3 percent. The most exported group is vegetables and fruits mainly dragon fruits with 64 percent. Vietnam's import of Chinese agricultural materials is up to 62.5 percent.
China has long been a big market of Vietnamese farm produce while trade has mainly been through the border line, causing disadvantages for Vietnamese businesses and farmers.
AEC and TPP will help Vietnam balance trade relations and restructure export market to reduce the dependency if the country can exploit opportunities from these agreements.
Total export turnover of Vietnamese wooden products to the U.S. accounts for 39 percent, Japan 19 percent now.
Vietnam's seafood export value to TPP market accounts for 45 percent of total. Of these, the U.S. and Japan are the two largest markets holding 19 percent and 16 percent export value respectively.
After the TPP takes effect, tariff rates will gradually fall to 0 percent bringing Vietnam more export advantages of many agricultural, forestry and fishery products than Thai and Chinese goods.
The TPP will also help improve the business environment in Vietnam to boost attraction of foreign direct investment together with high technologies and advanced management method.
Big challenges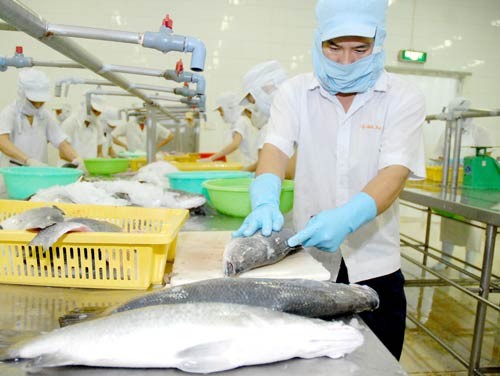 Fish processing for export at APT Company in HCMC (Photo: SGGP)
Experts have warned of big challenges to the agricultural industry especially breeding when Vietnam integrate more deeply in the global trade.
The number of farmers in Vietnam accounts for 60 percent of population while it is only 3 percent in many TPP nations, where high technologies have been applied to promote productivity and lower prices.

Therefore, farmers will be the most vulnerable subject in integration as most have neither been equipped with necessary knowledge for the process nor organized methodical production. This will limit competitiveness of some items.
The TPP will open local market for foreign farm produce with tariff rates on most products to drop to 0 percent.
Dr. Nguyen Quoc Vong from RMIT University said that Thai rice quality has been superior to Vietnamese rice, Philippine banana is better preserved and more eye catching, the quality of Indonesian coconut and coffee products is more equal, Japan outpaces Vietnam in seed quality.
Breeding and fruits are forecast to face severe competition in local market, firstly between Vietnam and two TPP members Australia and New Zealand whose competitiveness in breeding and temperate fruits is among the highest in the world. The U.S. has been in position of strength to beef, poultry, pork and dairy products.
When TPP remove tariff barriers, U.S. pork will overflow local market with price 15-20 percent lower than local rates.
Experts said that the TPP would be a big ocean not easy for Vietnamese firms to cross because most have exported raw products and been unable to seize control of the market.
The TPP will put forward technical barriers including environmental and labor standards. Requirements on quarantine, antibiotic residue, trademark and package will pose more challenges than opportunities from tariff elimination.
Origin rules and commitments against fishing subsidization might raise difficulties to key export products such as garment and textile and seafood.