Positive results of Viet Nam's recent negotiations with other countries for WTO accession prove that the country will achieve its target sooner or later. Becoming a World Trade Organization member will bring opportunities for Viet Nam to join the world's agricultural market, worth US$548 billion a year. However, the country's agriculture sector also faces big and tough challenges.
Big Challenges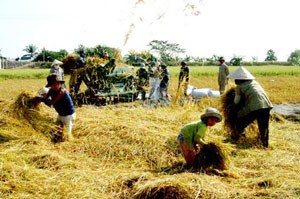 Viet Nam's agriculture sector will face big challanges after joining the WTO?
Viet Nam must open its market for foreign agricultural products after joining the WTO. As shown in a report of the UN Food and Agriculture Organization (FAO), about 1 billion tons of agricultural products is ready to be imported to Viet Nam.

Firstly, the country's agriculture sector will face fierce competition from other exporting countries in the domestic as well as foreign markets.
Secondly, a risk of epidemic diseases for domestic agricultural products will likely accompany foreign products entering the domestic market. If Viet Nam does not establish a large and powerful force to set up and follow up the strict and effective quarantine regulation system, epidemic diseases will obviously break into the domestic market and seriously affect the national economy.
Thirdly, in order to cope with the high competition and to meet the rising demand in the great market of WTO, many domestic producers will be likely to overuse fertilizers or pesticides on their products. Thus, the nation's environment and natural resources would be badly affected.
Fourthly, consumers nowadays always ask for high quality and food safety standards in agricultural products. Besides, strict regulations in planting and raising products and the unshakable exploitation of natural resources are also required. However, Viet Nam does not develop the Good Agriculture Practice (GAP) approach, which helps the agricultural production satisfy these requirements. As a result, local producers will face many difficulties in exporting their products to the world market as well as competing with other foreign counterparts right in the domestic market.
Finally, the positive change in Viet Nam's market when joining the WTO lies in the elimination of ineffective enterprises. Due to the market's pressing demand for agricultural products of big quantity, high standard, and low price, Viet Nam must develop and apply high technologies in agriculture. Farmers who fail to apply new production models will be eliminated out of the playground.
Factors causing sluggish development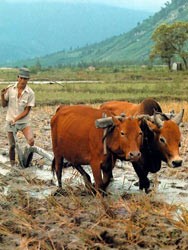 Many Vietnamese are still farming with the rudimentary tools.
The wet rice production examples some inadequate issues in this biggest industry of Viet Nam's agriculture sector.
Viet Nam is still applying the rudimentary production methods. Most farmers in the entire country are doing their activities by hand tools and modern instruments are rarely used.
US$1 billion in wet rice exports is the achievement of the Vietnamese farmers' hard-working spirit, not the achievement of science and technology application.
It does not mean that Viet Nam does not invest on science and technology application to agriculture. However, Viet Nam invests only on seed and cultivation technical but on producing instruments.
Similarly, the same can be seen in other exporting industries of agricultural sector including coffee, tea, and vegetables production.
Viet Nam is a country with 70% of its population living in rural areas, which means 57 millions of Vietnamese are directly and indirectly working in agriculture sector. There is currently no sufficient training program for young farmers who must be well-schooled in high agricultural technologies. Meanwhile, Australian farmers had been trained to spray insecticide by planes, and Precision Agriculture training course are held for teaching farmers how to use the information form satellite for production management.
More Work to Do
Education and training for Vietnamese farmers must be taken into consideration. The Government can speed up the agricultural modernization by setting up more vocational education and training centers, upgrading current means of production, especially the equipments for harvesting, packing and quality controlling.
Besides, the Government should assist its farmers to establish associations connecting farmers, traders, and scientists together, aiming at calling for necessary cooperation. Thus, comprehensive technologies including farming techniques, post-harvesting management or the GAP application can be handed over to farmers sufficiently.
Lesson from Australia shows that no organization can have such an effective and active contribution to the development of the agriculture sector as an association elected and controlled by the farmers does. The further Viet Nam integrates into the world, the more challenges the country faces.
By Dr. Nguyen Quoc Vong- Gosford Horticultural Research and Advisory Institute, Ministry of Agriculture of New South Wales, Australia