Aqua-agro-forestry exports have faced with many difficulties since early this year with export volumes and values not as expected. Many businesses have ploddingly operated while central and local authorities have concentrated to improve the condition and waited for a recovery in the second half of 2015.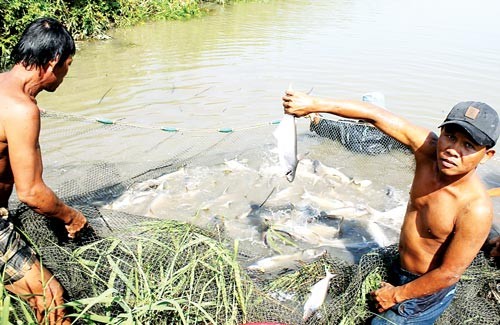 Seafood breeders hope a market recovery in the Mekong Delta (Photo: SGGP)
The Ministry of Agriculture and Rural Development reported that agro-aqua-forestry export turnover was estimated to reach US$2.37 billion in May, taking the total number to US$11.4 billion in the first five months, down 7.3 percent over the same period last year.
Key export items saw a year on year turnover reduction. For instance, 2.4 million tons of rice worth US$1.05 billion was exported in the five months, down 11.4 percent in volume and 14.6 percent in value.
Seafood export turnover fell 17 percent to US$2.41 billion, coffee decreased 38.2 percent to US$1.2 billion and rubber reduced 5.2 percent to US$464 million.
The Ministry of Industry and Trade explained the reduction was because of abundant supply in the world, which has resulted in rigorous competition among export countries.
Vietnamese rice has to compete with the grain from Thailand, India and Pakistan. Main export markets of Vietnam such as China, Malaysia and Indonesia have halted import while other markets have not showed signs of recovery.

Shrimp industry has raced with Thailand and India whose output has strongly recovered. Vietnam's large seafood markets such as the US, EU and Japan have reduced import.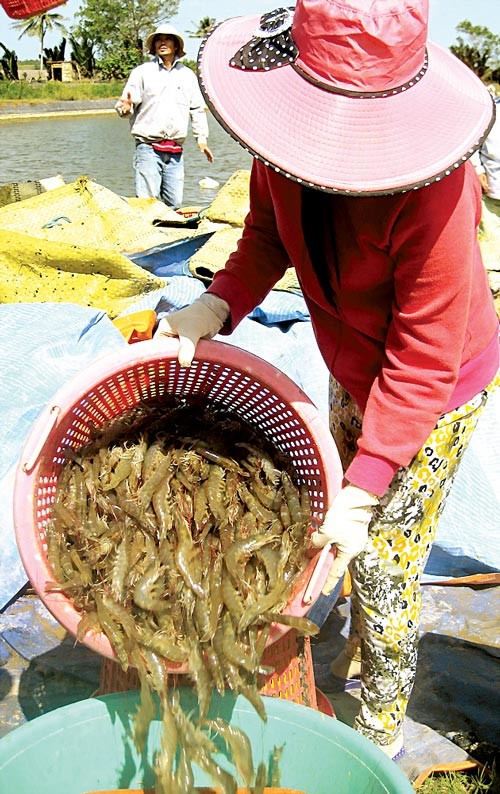 (Photo: SGGP)
On the other hand, the US dollar appreciation under the influence of crude oil price fall in the world has also slowed Vietnam's agro-aqua-forestry exports.
Deputy Chairman of Ca Mau province People's Committee Le Dung said that shrimp export turnover dropped up to 32 percent this year because EU, Australia, Japan and South Korea has lessened import, sending businesses to take their goods to the U.S. causing export price reduction.
Slow export has dragged down shrimp prices in the Mekong Delta, leading difficulties for many shrimp breeders.
Director General of Go Dang Company Nguyen Van Dao said that tra fish export has experienced a drastic fall in the number of orders this year, partly due to import reduction from EU market. Gloom exports and low prices have worried the fish breeders in the Mekong Delta.
Third-quarter recovery expected
According to Vietnam Association of Seafood Exporters and Producers (Vasep), from the third quarter annually is a traditional 'breakthrough' time for seafood exports.
Businesses hope that the tra fish export market would recover in the last two quarters this year.
Chairman of the Vietnam Pangasius Association Nguyen Viet Thang said that companies should restructure their management and apply advanced technologies to increase added value to take the industry overcome this hard phase.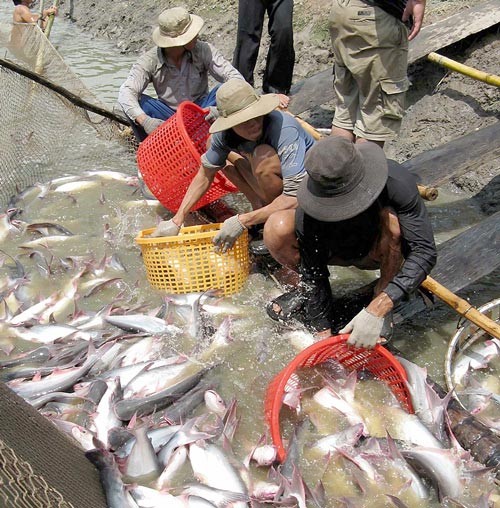 Tra fish exports wait for a recovery from Russian and EU markets (Photo: SGGP)
Dong Thap province People's Committee determined that export market recovery as an urgent matter in short term. In long term, the province's policy is to step up connectivity between breeders and businesses via bank loan assistance and planning by authorized agencies.
Shrimp exporters forecast a recovery in the third quarter when inventory at import nations is used up. However, according to experts Vietnam will continue facing severe competition from Thailand and China, therefore export price is unlikely to highly increase as in the last two years.
Ca Mau province administration has instructed authorized agencies to keep a close eye on market changes, prices, and demand of shrimp varieties to provide businesses and farmers with in time information for suitable export measures.
Besides, the free trade agreement between Vietnam and the Eurasia Economic Union (EAEU) that was signed on May 29 will bring a lot of opportunities for Vietnamese seafood exporters.
Vasep noted that Russia has been one of important markets of Vietnam' seafood industry for the last several year. The agreement will cut export duty from Vietnam to that market to 0 percent from 10 percent.
At a recent meeting with businesses, President Truong Tan Sang said that Russia was a potential market with 140 million residents, he reminded domestic businesses to improve their products' quality to better exploit this market.