The import turnover of agricultural, aquaculture and forestry products approximated US$4.07 billion in the first two months this year, a year on year increase of 21.8 percent, reported the Ministries of Agriculture & Rural Development and Industry &Trade.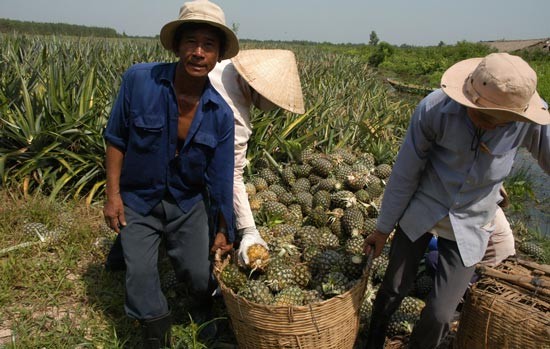 Farmers harvest pineapples for exports in Binh Chanh district, HCMC (Photo: SGGP)
In February, the turnover was estimated to reach $2.19 billion.
The export turnover of these products hit $1.9 billion in February, taking the total value in the first two months to $4.3 billion, up 1.4 percent over the same period last year. Of these, farm produce went up 0.8 percent to touch $2.4 billion, with the highest increase in coffee, wood and rubber products.
On March 1, Minister of Agriculture and Rural Development Nguyen Xuan Cuong signed a import halt decision to some farm produce from India comprising peanut, cassiatora seeds, cocoa, French bean and tamarind because recent consignments have infected by groundnut borer (caryedon serratus) subject to Vietnam's plant quarantine list.
Vietnam found the species alive in more than 3,000 tons of peanut and 24 tons of tamarind last year and 380 tons of peanut from India since early this year.
The ministry has assigned the Plant Protection Department to closely quarantine consignments of the above seeds and fruit imported from India while the decision has yet to take effect and officially inform India's quarantine agencies to remedy the situation.
In addition, the Plant Protection Department has been asked to inspect and confirm the remedy by Indian agencies and report to the ministry.