Vietnam's agro-forestry and fisheries exports hit 17.43 billion USD in the first seven months of this year, up nearly 12 percent from the same period a year earlier. The figure included 2.38 billion USD earned in July.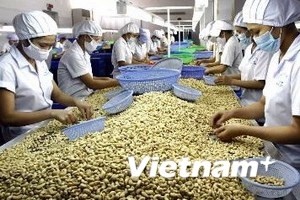 Cashew nut processing (Source: VNA)
According to the Ministry of Agriculture and Rural Development, pepper maintained growth, with 119,000 tonnes shipped abroad for 862 million USD, up about 29 percent in volume and 42 percent in value.
Vietnamese pepper's largest markets in the period were the US, Singapore, the United Arab Emirates and India, which all together made up 46 percent of the total pepper export market share.
Cashew nuts enjoyed an over 2 percent rise with 158,000 tonnes exported in the reviewed period, raking in over 1 billion USD, nearly 16 percent in volume and 17.5 percent in value higher than the same period's figure.
The seven-month exports of coffee reached 2.31 billion USD, a year-on-year increase of nearly 22 percent, while wood and wood products enjoyed a 13.4 percent rise in earnings with 3.35 billion USD.
Meanwhile, aquatic exports brought home 4.2 billion USD, up 24.5 percent year on year. Vietnamese aquatic products mainly went to the US, Japan, the Republic of Korea and China.
A drop in both volume and value was seen in the export of rice, tea, rubber and cassava products.
Rice exports experienced decreases of 8 percent in volume and 4.8 percent in value with 3.86 million tonnes and 1.75 billion USD. China remained the largest importer of the staple, accounting for 39 percent of Vietnam's export volume, followed by the Philippines, Ghana and Singapore.
The country exported 451.000 tonnes of rubber for 828 million USD, facing a drop of 10 percent in volume and 32 percent in value.
At the same time, tea also suffered a 6.7 percent fall in volume and an 1 percent decrease in value with only 70,000 tonnes shipped worth 116 million USD.