Impressing export turnover growth of secondary items in agricultural-forestry- fishery industry such as cashew nut, pepper, cassava, vegetable and fruits has partly made up the drastic fall of traditionally mainstay products including rice, coffee and seafood in the first seven months this year.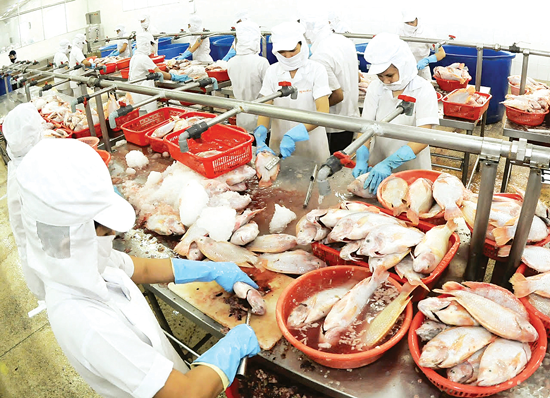 Seafood export value reaches US$3.5 billion in the first seven months this year, down 17 percent over the same period last year (Photo: SGGP)
Mainstay product turnover reduction
In the first seven months, export turnover of farm produce and seafood products dropped 3.6 percent over the same period last year to only US$16.9 billion, raising concerns because Vietnam has been familiar with good export growth of these products for the last several years.
The most reduction was from coffee, rubber, rice and seafood.
Unofficial statistics show that rice exports reached only 3.7 million tons worth US$1.5 billion, down 3.1 percent in volume and 8.3 percent in value. Previously, the Vietnam Food Association reported that rice export price averaged US$431 a ton in the first half this year, a year on year fall of 4.64 percent.
Rice exports to China that is the Vietnam's largest market with 38 percent market share decreased 9 percent in volume and 13.2 percent in value in the seven months.
Coffee and rubber even reduced deeper than rice. Vietnam shipped 792,000 tons of coffee to yield US$1.6 billion, down 40 percent in volume and 33.7 percent in value.
Rubber products saw a year on year volume of 13.6 percent increase and value decline of 9.2 percent to 519,000 tons and US$760 million.
The above three products' reduction was said because supply has exceeded demand after top export nations including Vietnam quickly expanded their cultivation areas.
The most concern was from seafood which turnover plunged 17 percent to bring only US$3.5 billion
Export value of brackish shrimp, accounting for 50 percent of seafood export turnover, dropped 29 percent to US$1.2 billion in the first six months, according to the General Department of Vietnam Customs.
 
The Vietnam Association of Seafood Exporters and Producers (VASEP) forecast that shrimp export turnover would approximate US$3.2 billion this year, a reduction of US$700 million over 2014 due to increasing supply in the world.  Pangasius fish is expected to slide 4 percent to US$1.7 billion for the whole year.
Minor items rise up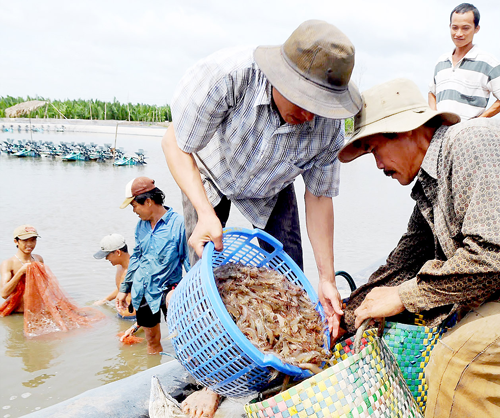 Shrimp harvest in Nha Be district, HCMC (Photo: SGGP)
While main products experienced the turnover shortfall, secondary items posted an impressive growth such as vegetable, cashew nuts, pepper and cassava in the first seven months.
Firms exported 184,000 tons of cashew nuts worth US$1.3 billion, a year on year increase of 11.8 percent in volume and 26.6 percent in value. Export price averaged US$7,213, up 12.6 percent.
Chairman of the Vietnam Cashew Association Nguyen Duc Thanh said that prices of many kinds of nuts including cashew had soared up because of drought in the world. With this momentum, cashew nut and product export turnover might hit at least US$2.5 billion this year.
About 98,000 tons of pepper was sold abroad bringing US$920 million, down 20.6 percent in volume but up 2 percent in value. Average export prices moved up 30 percent to exceed US$9,300 a ton.
 
The highest hike was from cassava and products with 2.8 million tons worth US$886 million, raising 35.4 percent in volume and 40 percent in value.
 
Wood and furniture value was up 8.3 percent to hit US$3.7 billion, which is expected to break US$7 billion this year.
 
Vegetables and fruits have recovered in recent years after a long stagnation.
The Vietnam Fruit and Vegetable Association reported an export turnover hike of 22.8 percent to near US$881 million in the first seven months. Markets posting the highest growth rate comprising Germany with 50 percent and the United Kingdom with 31.3 percent.
 
Experts expected stronger growth in the second half of the every year that is the main export season. In addition, many new markets have already opened to Vietnamese fruits including longan and litchi. If growth rate tops 25 percent, US$2 billion turnover is possibly reachable.