"Viet Nam's motorbike manufacturers should focus their production on new markets like Africa and local rural areas or scale back production to cope with the temporary slow down," suggested an official during the October 4th conference.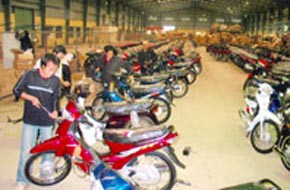 Motorbikes are assembled in a local company. (Photo: TK)
Speaking at the Vietnamese Motorbike and Intellectual Copyrights conference, the Deputy Secretary of the Science and Technology Associations, Mr. Pham Bich San said, "The industry should invest more in improving production and technology in a bid to meet the demand in the African market as well as remote rural and developing regions of Viet Nam."
Mr. San also suggested that the country should stop granting preferential status to weak, state-owned motorbike manufacturers. Implementing this would close nearly 40 enterprises that use ineffective operations and have poor competitiveness.
Held in cooperation with the Vietnam Motorbike and Bicycle Association, the Science and Technology Associations, and the Khoa Hoc & Doi Song (Science & life) Newspaper, the conference tried to find solutions for the current "gloomy" situation of the domestic motorbike industry. Recently some producers have been forced scale back production, or temporarily shut down production altogether, in response to the sluggishness.
According to Mr. San, state-owned and private motorbike assemblers manufactured nearly 376,000 units in the first half of 2006; however, the motorbike sales of the Vietnam Bicycle and Motorbike Association's members in the past several years have reportedly been dropping by over 30% and in some cases 50% compared to early 2006.
"The Vietnamese motorbike industry has 52 companies made up of seven foreign-invested and 45 domestic firms. The foreign-invested producers have established a secure foothold in the market. Meanwhile, only one-third of domestic firms are operating stably. The remaining two-thirds must produce in moderation or they will have to close," Mr. San said.
Aside from poor competitiveness, many local motorbike assembly firms have to stop operating because of problems associated with intellectual property.
Previously, most motorbike designs used by local producers were copies of designs originally created by Chinese and Japanese companies. Since 2005, as the Vietnamese Government began to enforce the regulation of design copyrights, many Vietnamese assemblers have been caught off guard and are now trying to manage the many issues at hand.
According to some assemblers, the Vietnamese motorbike market is in chaos due to many investment problems and the weak plans for development by the motorbike industry.