The Australian Ambassador to Vietnam, Allaster Cox, welcomed the entry into force of the ASEAN-Australia-New Zealand Free Trade Area (AANZFTA) on January 1, 2010.
"This is the largest Free Trade Agreement Australia has ever concluded and the most comprehensive Free Trade Agreement to enter into force for ASEAN," Mr. Cox said in a statement the Australian Embassy sent out Thursday.
"This deal will support industries both in Vietnam and in Australia by promoting exports and building on the complementarities in our trade and investment relationship," he added.
AANZFTA reduces or eliminates tariffs across a region that is home to 600 million people and a combined GDP of A$3.1 trillion. Under the agreement, Australia has agreed to systematically reduce tariffs on all tariff lines, with 100 per cent of tariffs to be eliminated by 2020.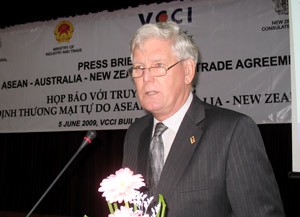 Graeme Swift, Australian Consul General in Ho Chi Minh City, introduces the ASEAN-Australia-New Zealand Free Trade Agreement at a press briefing in the city on June 5, 2009 (Photo: Tuong Thuy)
In return, tariffs on 96 per cent of Australia's current exports to ASEAN nations will be eliminated by 2020.
The agreement also reduces barriers to services trade and provides protections to investors, including through provisions on intellectual property, competition policy and e-commerce. Under the deal, Australia will provide A$20 million for capacity building and technical assistance to Vietnam and developing ASEAN countries to assist in the implementation of the Agreement.
Ambassador Cox said in the statement, "We look forward to working with Vietnam and other FTA partners to take full advantage of the FTA and to further our cooperation in support of Vietnam's economic integration."
AANZFTA was signed by Trade Ministers from ASEAN, Australia and New Zealand in February 2009 in Thailand.