The Government should adopt caution if it plans to loosen financial policy and also keep an eye on the balance of payments situation, a leading economist has warned.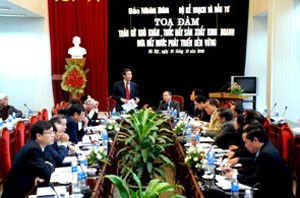 Officials and economists discuss the outlook for the economy at a meeting in Ha Noi on December 10. (Photo: Nhan Dan)
Speaking at a seminar held in Ha Noi December 10 on resolving difficulties and promoting production, Dr. Vo Tri Thanh of the Central Institute for Economic Management said the latest forecasts about the world economy next year are rather somber.
Vietnam's economy too, though forecast to continue growing, is poised to slow down.
Other delegates at the seminar also spoke about the likely difficulties next year and made recommendations for managing the economy.
Most of them agreed that the government should stimulate investment and consumption.
The chairman of the Small and Medium Enterprises Association, Cao Si Kiem, said while every firm needs capital, their most important concern now is demand for their products and services.
So, the Government should not only promote consumer credit programs and banks' retail services, but also consolidate the domestic market and encourage people to use locally made rather than imported goods.
The conference was organized by the Ministry of Planning and Investment and Nhan Dan (People) newspaper.