Ba Ria-Vung Tau is one of the Southern key economic regions which are considered an impetus for development of southern regions and the country. With its unique location as a gateway of southeast provinces to the eastern sea, Ba Ria-Vung Tau has lots of potentials for fast and comprehensive development of a marine economy. 

At the conference "Ba Ria-Vung Tau and the Marine Economy Development Strategy", held at the Sea Festival 2006 in Ba Ria-Vung Tau, issues on marine economy development strategies and investment attracting policies in Ba Ria-Vung Tau were reported by authorities of local departments and organizations. 
Ba Ria-Vung Tau's potentials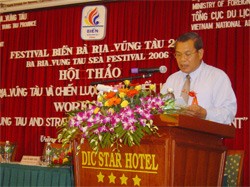 Mr. Tran Minh Sanh, Chairman of the Ba Ria-Vung Tau Province People's Committee makes his representation. (Photo: Y.C.)
Evaluating Ba Ria-Vung Tau's potentials, Chairman of the Provincial People's Committee Tran Minh Sanh said, "Ba Ria-Vung Tau is one of the localities having favorable conditions for developing the marine economy. In the past years, the province's economic growth rate has been always high with the big development of industries of oil and gas, seafood, tourism and import-export."
Oil and gas industry: The Ba Ria-Vung Tau continental shelf has oil deposits estimated at 1.5 billion tons, and natural gas deposits valued at one trillion cubic meters, with six oil fields consisting of more than 100 wells currently in operation. The completion of Nam Con Son gas pipeline with a capacity of six billion cubic meters per year has made Ba Ria-Vung Tau an industrial center for other industrial sectors using gas to produce electricity, LPG, urea fertilizer, steel and building materials.
Nam Con Son Pipeline Project is a high-availability liquid gas development supplying fuel to consumers in the southern parts of Vietnam.
Seaport system: Ba Ria-Vung Tau has favorable conditions for the development of deepwater ports. At present, there are 14 ports operating in the province. According to a plan for the development of Viet Nam's port system approved by the Prime Minister, the Ba Ria-Vung Tau port system will be constructed to support those of Ho Chi Minh City, Dong Nai and neighboring areas to help with the development of industrial zones, and the oil and gas industry.
In the long term, the Ba Ria-Vung Tau port system will be the main port system of the Southern Key Economic Zone. According to a plan, the capacity of the seaports in the province is expected to reach 14.5 million tons per year by 2010 and 41 million tons pear year by 2020.
Sea Products: Fishing, especially offshore fishing, is always the province's economic strength. The entire province currently has 4,900 fishing boats, among which 2,500 have the capacity of over 90CV, with a total catch of 170,000 tons per year.
The province has 40 seafood processing factories for export. Most of them meet the standards of Hazard Analysis Critical Control Points (HACCP) and are in the position to export sea products to the markets of EU, America, Japan and other Asian countries. The seafood export turnovers of the province continuously increase, reaching US$160 million in 2005, making up 53% of its total export turnover.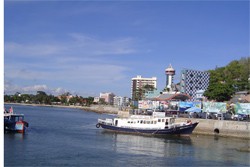 Ba Ria-Vung Tau province has lots of potentials for fast and comprehensive development of a marince economy. (Photo: Y.C.)
Tourism: Ba Ria-Vung Tau is one of the country's seven major tourism development regions. The province plans to build five big tourism complexes in Vung Tau City, Long Hai-Phuong Hai, Dinh mountain-Ba Ria, Binh Chau-Coc Lake, and Con Dao.
Director of the Ba Ria-Vung Tau Province Tourism Department Nguyen Trong Tin said, "Ba Ria-Vung Tau is a central point for the marine tourism development, based on its specific advantages of terrain and location. It has human and natural resources like Con Dao National Park with 16 small and large islands, and many historical and cultural relics."
Ba Ria-Vung Tau is well placed to develop such tourism forms as clinic traveling, weekend entertainment, conference tourism, historic and cultural tourism, and ecotourism including forests, sea and islands, and visits to relics of revolutionary history.
Strategies of the marine economic development in Ba Ria-Vung Tau
Mr. Tran Minh Sanh added, "From the real situation of the province's marine economy, the country's general situation, and practical experience of other countries in the region and the world, we can realize that developing the marine economy is the main focus. It plays a decisive role to speed up economic growth in countries having advantages of marine resources. Therefore, the province plans to develop quickly, strongly and comprehensively marine economic sectors; exploiting maximum potentials, advantages and resources of the sea."
The province has had many policies on exploiting and promoting its advantages to make it one of the region and country's centers of industry, services, tourism and seafood; improve people's living standards and ensure the country's defense and security in 2010-2015 period.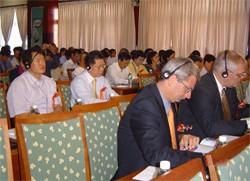 Foreign and domestic investors at the conference. (Photo: Y.C.)
The province will develop the agriculture sector in the direction of clean production, applying advanced technology to increase productivity and output.
In the coming time, the province will dredge and enhance the river's narrow passages, build river port system to develop sideline and inland transport, including entrepôt ports, fishing ports, civil ports, tourist ports, and building material ports.
Regarding aquaculture, offshore fishing is to be promoted. Fishery species of high economic value will be focused. Fishery resources will be protected with destructive fishing methods being banned. Fishery activities will be organized appropriately in terms of the characteristics of fishing ground and fishing season.
For tourism, the province is planning major tourist sites and tourist complexes such as seaside and mountain resorts inside Vung Tau city and resorts along the coastal route from Chi Linh-Cua Lap (Vung Tau) to Long Hai, Phuoc Hai (Long Dat district) and Tram Lake, Coc Lake, Linh Lake and Binh Chau (Xuyen Moc district).
The province will give priority to financial assistance for tourism projects. In case investors need infrastructure investment outside resorts, the province's budget will be allocated so as to satisfy investor's demands opportunely.
Especially, attracting high-tech industrial projects invested in the province's industrial parks is a top priority in the coming years.
Beside large industrial parks, the province also develops medium and small industrial complexes in its districts and towns to expand industry, handicraft industry and agricultural product processing. 
 
Problems need care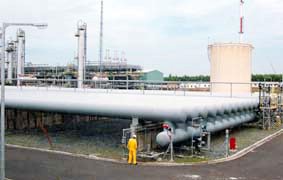 Dinh Co Gas Processing Plant belongs to the Nam Con Son Pipeline Project.
The oil and gas industry has played an important role in the economic development and the state coffer. Ba Ria-Vung Tau has a big potential of oil and gas which are the most important resources under the sea. According to plans and policies, the oil and gas industry is given high priority to develop. However, promoting oil and gas industry also increase the risk of environmental pollution, particularly the sea environment. Therefore, the disposal of oil and gas waste needs to be carefully considered to ensure the sustainable development, said Mr. Tran Minh Sanh.
In order to attract investment into Ba Ria-Vung Tau's industrial parks, administrative procedures have to be improved.
"We should pay attention to the fact that in the period of international economic integration, there is strong competition for investment among not only regions in the country but also countries in this area and the world," said Head of the Ba Ria-Vung Tau Province's Industrial Park Management Board Le Minh Chau. "Therefore, a clear full system of laws, a uniform policy from the central government to local government, and associate structure among regions are required to facilitate activities of investment promotion and cooperation in investment promotion. So, these activities can obtain good results as expected."