Bad debts and high lending interest rates have stunted Vietnam's economic growth and development plans.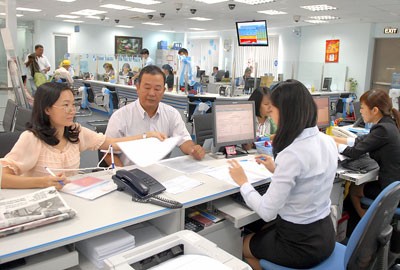 Customers at a bank in HCMC (Photo: SGGP)
After a steady rise of 20-30 percent in the last few years, credit growth rate has fallen drastically in 2012. According to the State Bank of Vietnam, credit growth rate has been only 2.77 percent since the beginning of this year.
Low credit growth is not only a sign of a stagnating economy but also the basic reason for a boom of bad debts.
Answering queries at the National Assembly, the State Bank Governor said that since 2008, bad debts have been on the increase. In 2009 they were 27 percent; in 2010 they were 41 percent; 64 percent in 2011; and 47 percent in the first six months of 2012.
Bad debts and high lending interest rates have together stunted the economy and ground all development plans. At present, outstanding bank loans are around US$135 billion at lending interest rate of 15 percent a year, which amounts to $20 billion in interest alone annually.
Bad debts may reach $12.33-14 billion by October this year.
Increase of bad debts is the fault of credit institutions. However the basic reason is loose credit policy, which aims to promote growth but has led to widespread public investments regardless of actual demand.
Sheer lack of supervision and lax management has created conditions for waste, red tape and corruption to flourish. The State invests large amounts but cannot recover capital which then leads to increase of bad debts.
Vietnam's economic policy is also to blame for increase of bad debts, as also does poor coordination between banks and businesses.
State businesses play a decisive role in Vietnam's economic policy and the budget deficit policy is used for promoting growth.
The budget deficit policy, whose offspring is public investment and the State business sector, played an important role in industrialization and economic growth at the beginning of the renovation era.
However, these businesses have operated as monopolies and ineffectively, which paved the way for State owned enterprises.
State businesses can easily get credit from commercial banks, have right to access unsecured loans or borrow as per directions of the Government; while private owned businesses have a tough time in accessing loans.
State businesses also have excessive investments in other fields and hence maintain little focus on businesses. Easy credit policy together with lax management in enterprises has led to catastrophic increase of liabilities.
According to a report that Minister of Finance Vuong Dinh Hue presented to the National Assembly, liabilities in 30 State groups and corporations have tripled. Of these 12 saw liabilities go up 3-5 times, ten saw them rise 5-10 times and eight saw them go up tenfold.
At a 15 percent interest rate, businesses must earn a profit of more than 10 percent to break even. If profits are less then 10 percent, they are unable to circulate income and lose payment ability.
The above businesses and several other State businesses have operated unprofitably for a very long time and now are unable to pay debts.
The Finance and Budget Committee of the National Assembly's Standing Committee said that the bad debt rate in the State business sector has reached 70 percent, 53 percent of which is from groups and corporations.
Bad debt in Vietnam works in tandem with real estate. Taking advantage of the State's loose credit policy, businesses especially large ones have rushed to borrow for urban and industrial zone projects. The high profit rate in the real estate sector has also caused residents to get bank loans.
This has led to supply exceeding demand. Real estate prices have been exaggerated much higher than actual value. Investors could not sell their properties by raising the real estate stock and bad debts combined.
Besides, 60 percent of mortgages at banks are real estate but the banks could not liquidate these properties when they needed, putting more bad debt burden on the economy.
Latest statistics from the State Bank show that bad debt rate accounts for 8.8 percent of public debts or $11.3 billion. The gross income of the State budget in 2011 was $33.8 billion.
Experts believe the only feasible measure to resolve the bad debt issue is to sell debt packages to foreign partners. To lure foreign investors, first the basic reasons causing bad debts must be resolved by restructuring the economy, including State businesses and the banking system, minimize public investments and develop the private sector.
Vietnam should also perfect legal frameworks to create fair, stable and a transparent business environment.