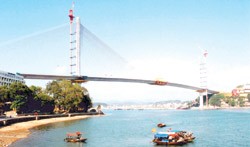 Bai Chay Bridge gets final link on April 30, 2006.
Last part of the Bai Chay Bridge was cemented in the Ha Long city of the north-eastern province of Quang Ninh on the morning of April 30, welcoming the national reunification day.
After the bridge-linking ceremony, final works at the two bridgeheads will continue, aiming at completing the entire construction by September 2, 2006.
At the current rate of progress, the bridge construction, which kicked off on May 2003, will be finished three months earlier than expected.
With a total investment capital of over VND2.1 trillion (US$134 billion), the 6-lane Bai Chay Bridge will be 903 meter long and 25.3 meter wide.
Spanning the Cua Luc Straits of Ha Long City, the bridge will not only facilitate traffic in the northeast area of Viet Nam but also beautify the Ha Long Bay, one of the world's natural heritages recognized by the UNESO.