Two scenarios will decide Vietnam's economic growth and inflation in 2010, in which GDP is likely to grow by up to 6.5 percent or seven percent, the State Bank of Vietnam governor, Nguyen Van Giau, forecast.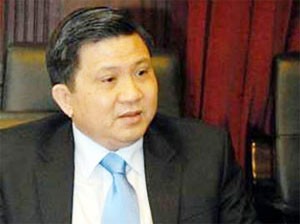 The governor of the State Bank of Vietnam, Nguyen Van Giau, speaks at the seminar on "the role of monetary policies in the Vietnamese economy in its port-recession" in Da Lat August 28. (Photo: Dan Tri)
The governor was speaking at a seminar on "the role of monetary policies in the Vietnamese economy in its port-recession" held in the central highland city of Da Lat  August 28.
Mr Giau said that based on macro-economic theory and according to practical experience seen in economic stimuli in many countries, fiscal policy plays a key role in getting an economy out of a recession, while monetary policy is a supporting instrument.
To cope with the global economic crisis, many countries have launched stimulus packages to save their economies, with its scale depending on actual conditions in each country, the governor said.
In the US and China, their packages make up 30 percent of their GDP, but in the UK, the rate is just five percent, Mr. Giau said.
In some other countries, the rates are 16.3 percent in Russia, 14.3 percent in Kazakhstan, 14 percent in France, 3.9 percent in Turkey, 1.5 percent in Sweden and 1.2 percent in Malaysia, he added.
In Vietnam, the package of VND17 trillion (nearly US$920 million) was also launched and the Government decided to earmark the entire package for subsidized dong loans to businesses, he said.
Businesses that qualified for the policy have seen their loan interest rates cut by four percent, which means most have to pay just four to six percent interest for their bank loans, he added.
Vietnam's loan subsidy policy did not only enable businesses to maintain their operations, but it also helped commercial banks, he said.
Banks can continue to mobilize more capital from the market to boost lending without needing to reduce their lending interest rates or increase deposit interest rates, he explained.
As a result, Vietnam's economy has recently showed signs of recovery, with its GDP growing by 3.9 percent between January and June, while inflation was 3.22 percent, he cited.
However, he said, as far as macro-economic theory is concerned, if the loosening of monetary polices to foster growth is carried out for a long period, it is likely to cause severe inflation.
He forecast that in the rest of the year, economic activities will be smoother than before, but inflation is likely to increase because of the loosened monetary policies.
Growth to be maintained, but inflation likely higher 
After taking everything into account, the governor expected the economy's growth and inflation in 2010 will be impacted by two scenarios.
In the first scenario, the growth of total means of payment and credit will be 25-27 percent, three to five percent lower than in 2009, while ICOR (Incremental Capital Output Ratio) in the 2009-2010 is likely to be 7.7, a slight decrease from 2008.
As forecast by the International Monetary Fund (IMF), the world's oil price will continue its rise to $70-75 per barrel in 2010 compared to the average rate of $64 this year, while the world's average price of rice will also keep rising, from the $570 per ton in 2009 to $750 next year (based on Thailand's five percent-broken rice).

In this context, Vietnam's growth is likely to be six to 6.5 percent and inflation around ten percent in 2010.

In the second scenario, next year will see total means of payment and credit increase by 23-25 percent, 2 percent lower than in 2009, while ICOR will be seven to 7.5.

The world's oil prices will be $70-75 per barrel, far higher than the average rate of $60 this year, while rice will surge from $565 per ton on average in 2009 to $600 in 2010.
With this context, Vietnam will have a growth of 6.2 to seven percent and an inflation rate of 7.5 to 8.5 percent.
In general, the governor said, Vietnam will be able to maintain its growth next year but it may face higher inflation. Therefore, the country needs to strengthen control over total means of payment and credit to restrain its growth at around 30 percent and lower in the years to follow.
At the same time, the exchange rate and banking interest should be closely controlled to keep them at reasonable rates for the security of the monetary system.
In addition, leading commercial banks should be used as supporters of the implementation of solutions that regulate monetary policies in accordance with the country's development needs.