At a significant meeting on Friday, representatives of several banks in Ho Chi Minh City met with 200 small and medium enterprises, in which most of the businesses voiced their concern on inaccessibility of bank loans for lack of collateral and a continued fear of solvency.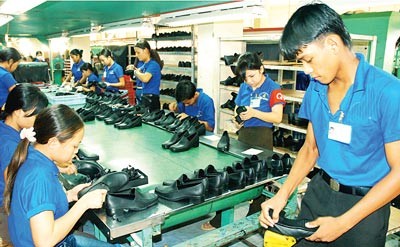 A shoe production factory in HCMC (Photo: SGGP)
According to the above enterprises, although banks have offered attractive credit packages with preferential interest rates, accessibility to loans is complicated.
The yet three-year-old Song Tan Company, dealing in e-commerce, has turned to several banks for loan in the last few months but has been refused on grounds that the company is in a high-risk business.
Dai Long Company, producing electric wires, needs capital to buy new equipment for production but they have no property to mortgage. The company is operating on lease hold land from the HCMC Department of Natural Resources and Environment.
Pham Linh, deputy director general of Phuong Dong Bank, said that not only in Vietnam but also in other countries, e-commerce is regarded as risky business. If enterprises want to avail of bank loans, they must set up a mortgage.
Nguyen Van Dung, deputy director of the State Bank in HCMC, said that businesses are now facing many difficulties like capital shortage and high inventory. This has contributed to an increase in bad debts and as a result banks are hesitant to lend.
Banks are also businesses, and thus must secure their status first just like any other business not wanting to face losses, he said.
The Government and the State Bank have implemented some credit and interest policies to help businesses in need. However, they must also find other measures to help themselves, Dung added.
An Khang Food Company asked if banks will loosen their lending so that businesses can access credit packages.
Mr. Dung said that banks will not loosen lending and businesses will have to meet lending regulations set by the State Bank. For instance, they must be financially sound, have feasible projects, be clear of any bad debts and own property as collateral.
However, banks will only offer preferential policies on capital and interest rates.
Mr. Dung added that within a month of the City People's Committee asking for VND30 trillion (US$1.44 billion) as credit package at 13 percent interest to assist businesses, banks have released the amount of VND20 trillion and the remaining amount will be released in July.
Dong A Bank now coordinates with Young Entrepreneurs Association in HCMC to assist small and medium companies with upto VND1 trillion ($48 million). Part of the capital is loan without mortgage, said Luong Ngoc Quy, bank deputy director general.
Those businesses that are in need can contact directly with the association to submit necessary documents.
The State Bank in HCMC said that businesses can also submit to the HCMC Business Association or the Department of Industry and Trade, with valid addresses, codes, concerned problems and purpose of loan.
The above organizations will then forward their papers to the State Bank, which will then coordinate with commercial banks to process their request.