The World Bank (WB) officially launched the "Global Development Finance 2006" report on May 31, which is one of the important foundations for developing countries like Viet Nam to look for ways to attract more Official Development Assistance (ODA) and Foreign Direct Investment (FDI).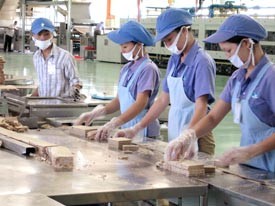 Interfood Group, Malaysia-invested company in Viet Nam. (Photo: T.C.)
According to the report, newly emerging big conglomerates will benefit from investment in strongly developing countries like Viet Nam. Particularly, Chinese and Indian conglomerates will have much more advantage than multinational conglomerates of industrial and developed countries.

The report televisions of Chinese brand name TCL can be sold more easily and quickly in Viet Nam than those cities that of other opponents. Also, Chinese motorbikes have been flooding the Vietnamese market for many years and Chinese cars are forecast to flood the Vietnamese market soon.

Net private capital flows to developing countries reached a record high of US$491 billion in 2005, driven by privatizations, mergers and acquisitions, external debt refinancing, as well as investor's strong interest in local-currency bond markets in Asia and Latin America, says the World Bank's annual 2006 Global Development Finance report.
The sharp rise in private capital flows to developing countries came despite uncertainties caused by high oil prices, rising global interest rates and growing global payments imbalances.

Viet Nam is one of the countries which are highly appraised for the economic growth, ODA appeal, regularly growing investment/GDP ratio .

The economic growth of Eastern Asia Pacific in 2005 reached 8.8%, lower than 9.1% of 2004. However, Viet Nam and Indonesia still made a landmark about economic growth.

Not only GDP but also the investment – GDP ratio of Viet Nam grew strongly. In the period of 2002-2004, Viet Nam's investment/GDP ratio was 34.2%, ranking after only Arzerbajan (45.6%) and China (43.2%).

Viet Nam's Investment/GDP ratio has grown regularly during the past 10 years. Namely, it was 26.9% in the period of 1994-1996 and 29.5% in 1999-2001.