Binh Duong new city has been built since 2010 aiming to become an administrative, economic, scientific and educational hub of the southeastern region. However it is being deserted as residents have not come to live and work there as expected.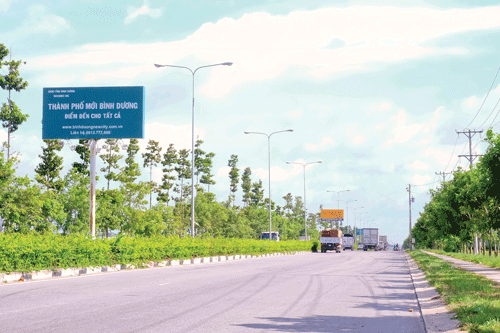 The main road leading to Binh Duong new city (Photo: Financial Investment/ SGGP)
The new city stretches over 1,000 hectares in Thu Dau Mot town, Tan Uyen and Ben Cat districts. Total investment capital is estimated to reach VND150 trillion (US$6.68 billion) by 2020.
It is a part of the Binh Duong industry-service and urban complex with the total area of 4,200 hectares.
Many investors from Japan, South Korea, Singapore, the U.S., and China have poured billions of U.S. dollars in projects there.
Singaporean Mapletree Group has built a US$400 million hi-tech park over 75 hectares. Japanese Tokyu Group has spent US$1.2 billion on Tokyu urban area.
The only work that has come into operation since February is the new administrative center of Binh Duong province at a VND1.8 trillion 21-storey twin building. The provincial Party Committee, People Committee, People Council and most agencies in the province have moved to the building and implemented one-stop-shop modal in the administrative reform.
In addition, the city comprises international level universities and primary schools, markets, supermarkets, hotels, restaurants, commercial-financial-banking centers and high class office buildings.
A bus route was opened from crowded Thu Dau Mot town to the new city last December at VND40 billion (US$1.78 million) by Becamex Tokyu Bus company, making it the first foreign invested public transport system in Vietnam.
A slew of real estate projects have been built to wait for waves of residents who have been expected to work and live in the new city. However, most of them have been desolated.
Thousands of houses near the center of the new city worth VND4-5 billion each have closed their doors for the last five years with very few dwellers. Investors have let some out to students at VND100,000-200,000 a month.
Uni Town commercial, service and urban site with 285 houses have been in similar situation with few having been rented for Karaoke service or groceries.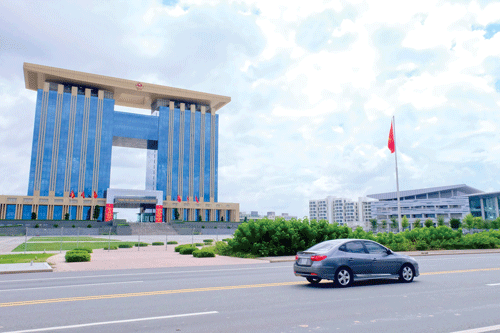 The new administrative center of Binh Duong province (Photo: Financial Investment/ SGGP)
Hundreds of meters from the administrative center are million dollar villas sites Sunflower and Dragon Hill which have been left half-done amid luxuriant weeds. Only 2-6 out of 25-30 already built villas are occupied.
A real estate expert said that Binh Duong new city has been built from social capital sources with comprehensively done infrastructures. Becamex Group has spent a huge amount to develop traffic and social infrastructure there.
However, investors to the city have just bought land pierces to divide into smaller plots for sale at skyrocketing housing prices.
Surrounding the new city are six industrial parks with a large number of workers who are in much housing demand. But they are only affordable for social houses or boarding houses, not houses worth VND5-7 billion (US$222,500-332,000).
Even apartment projects for foreigners working in industrial parks such as Sora Gardens and IJC Aroma have been unsold. Investors have offered these projects for sale accepting VND200-300 million in losses.
An expert said that land price swings from VND30-40 million a square meter in the new city, so house seekers can move to neighboring areas like Phu Chanh and Hoa Loi communes where a square meter is priced only VND3-4 million.