A second volume of a series of books profiling successful Vietnamese entrepreneurs was launched Monday in the country in the English and Vietnamese languages.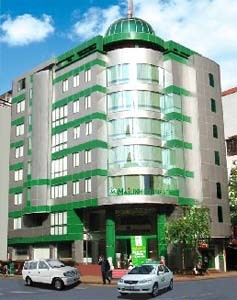 The Ho Chi Minh City headquarters of Mai Linh Corp., whose boss Ho Huy, a veteran, has built it a strong group of transport companies and created numerous jobs for the local community (Photo: Tuong Thuy)
"Entrepreneur" features 30 success stories and explains how, in their own different ways, the subjects linked up with markets and became part of the driving force behind the economic reforms known as Doi Moi in Viet Nam.
The cases are selected from 50 in a report compiled by the National Institute for Science and Technology Strategy and Policy Studies, the Ministry of Science and Technology.

The research was undertaken as part of "Making Markets Work Better for the Poor" – a regional technical assistance project supported by the Asian Development Bank (ADB), the UK Department for International Development, and the Tokyo-based ADB Institute.
The cases are drawn from a range of sectors, including eight from agriculture-related businesses such as farming, aquaculture, and handicrafts; 16 from art, ceramics, and food production; and six with services suppliers.
The entrepreneurs have not only benefited themselves and their families, but also generated many jobs and assisted their local communities.
They come from very different backgrounds and educational levels, including former soldiers, artisans and government officials. But one common feature is that all starting from poverty and disadvantage, through hard work, self-education, dedication, initiative and risk taking, they have started businesses during the Doi Moi and period gained success.
Ayumi Konishi, ADB Country Director in Viet Nam, says the stories explain the grounds for ADB programs supporting small and medium enterprises in Viet Nam. "A successful private business creates jobs and wealth and a major force in the struggle against poverty," he says.