The Vietnamese textile and garment sector, with its rapid and sustainable growth over recent years, remains overly dependent on foreign raw materials, paying inordinately high prices than necessary, radio The Voice of Vietnam (VOV) reported on August 20.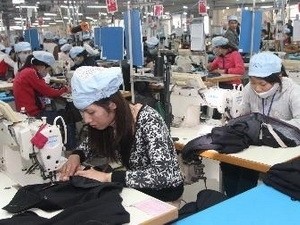 A textile factory in the central province of Thanh Hoa (Source: VNA)
The radio quoted Do Huu Huy, Deputy Head of the Africa and South West Asia Market Department under the Ministry of Industry and Trade, as saying that most of the raw materials for the sector originate in Africa and are sold to Vietnamese manufacturers through intermediary French, Swiss and Indian wholesalers.
The garment and textile sector would benefit tremendously by developing a direct international supply chain with African nations, Huy said, adding that this will eliminate the extra cost of the middleman, resulting in increased price competitiveness in the global marketplace.
A spokesperson for the Ministry of Industry and Trade and the Vietnam Cotton & Spinning Association, echoing Huy's views, disclosed that the agency has been endeavouring to strengthen trade promotion activities with African countries over the past with a view towards ameliorating the situation and enhancing the sector's supply chain.
The spokesperson cited a recent meeting held at the International Trade Centre (ITC) for Vietnamese manufacturers and its partners from eastern and southern African countries as a specific example. Numerous prospects for increased direct trade between the two sides were opened up at the meeting that will benefit the industry in the coming time.
Vietnam currently imports raw cotton from 19 out of 55 African markets, mainly Tanzania, Mozambique, Zimbabwe, Zambia, Uganda, and Malawi. African cotton is of fairly good quality, reasonably priced and suitable for yarn production.
VOV quoted Marco Charles Mtunga, acting Managing Director of Tanzanian Cotton Board as saying that the association is working with ITC to implement better management measures related to cotton contamination. Along this line, the association will offer training courses for farmers and cotton processing factories aiming to improve the quality of cotton in the future.
According to the General Department of Customs, in the first seven months of this year, cotton imports surged 34 percent in volume and 36.3 percent in value year-on-year to a record 458,000 tonnes valued at 919 million USD.
According to the Vietnam Cotton and Spinning Association (VCOSA), the industry currently has 5.1 million spindles with production capacity of about 700,000 tonnes of fibres per year.
VCOSA General Secretary Nguyen Hong Giang said that the Trans-Pacific Partnership Agreement (TPP)'s origin requirement for "yarn forward" would create favourable conditions for exponential growth in the global marketplace for Vietnamese manufacturers.
With the expansive prospects created by the TTP and the momentum for the development of a direct supply chain for raw materials with African partners, the prospects for continued rapid and sustainable growth in the garment and textile sector remain bright.