The Vietnamese Ministry of Industry and Trade has targeted US$58.6 billion in export turnovers in 2008, up from estimated $48 billion this year and $39.6 billion in 2006.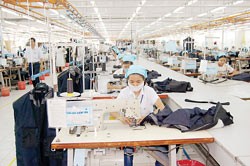 The garment and textile sector raked in $7.1 billion by November this year
For the world's second largest rice exporter, rice continues to be among its leading export earners.
According to an official forecast from the Viet Nam Food Association, Viet Nam is to export 4.5 million tons of rice next year, from 4.53 million tons estimated this year and 5.1 million tons shipped in 2006.
Despite the smaller quantity, rice prices have risen 16% this year, or an average $41 a ton, to $295 a ton. Twenty-percent broken rice would rise to $320 a ton next year while 5-percent broken grade by 6.3% to at least $340 a ton in 2008 from $320 quoted in November, the forecast added.
Other key export earners
In addition, the Southeast Asian nation is expected to continue exporting some key industrial items including crude oil and coal.
Specifically, it is forecast to ship abroad 16 million tons of crude oil at $78 per barrel and another 30 million tons of coal next year.
Meanwhile, exports of other items like textiles, garments, footwear, woodwork and electric components are to see high growths, the report read.
It must be noted that Vietnamese export values had risen 20% year-on-year to over $43.6 billion by November this year, including over $7.5 billion from crude oil, nearly $7.1 billion from textiles and garments, over $3.5 billion from footwear, and $899 million from coal, according to the country's General Statistics Office.
Also, seafood had brought in US$3 billion despite anti-dumping tariffs and strict inspections imposed by several major importers.
Deputy Minister of Industry and Trade Le Danh Vinh attributed such export achievements to the country's WTO commitments after it joined the global trade bloc in January.
However, for another deputy minister – Mr. Bui Xuan Khu, the figure is still modest in the region since Viet Nam's export turnover per capita is only US$473 while the equivalent amount in Singapore reaches up to $60,600, Malaysia $5,890 and Thailand $1,860.
In related news, Deputy Prime Minister Hoang Trung Hai is to chair a conference this morning in Ha Noi with the trade ministry, local governments and some major enterprises to discuss measures to promote exports while ensuring a GDP growth rate of over 8.5% next year.
Among several solutions expected to be put forward by the trade ministry are raising product quality, expanding production networks, upgrading technology and promoting trademarks.