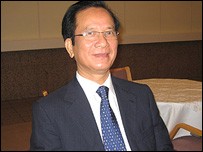 Mr. Vo Hong Phuc
Viet Nam's investment attraction is seeing bright prospects, said Minister of Planning and Investment (MPI) Vo Hong Phuc in an interview with Sai Gon Giai Phong Newspaper about foreign investment in 2006 and the next 5 years.

Minister, what could you say about the prospects of attracting Foreign Direct Investment (FDI) after WTO entry and APEC 2006?
As the mass media has reported, during the APEC Week, a myriad of agreements totaling US $2 billion was reached, which was a good sign for the vigorous flow of FDI into Viet Nam in the near future.
Currently, the entourage of Japanese PM Shinzo Abe, including 130 big enterprises, led by director of Japan's Economic Organizations' Federation Fujio Mitarai, is paying a visit to Viet Nam to survey investment opportunities.
The registered FDI capital is expected to exceed US $6.5 billion in 2006. Other indexes of accomplished capital, especially business results, are also predicted to exceed the set target.
The trend of FDI capital increase may be maintained for the following years.
Is it true that there will be an increase of investment flow from the US and other big economies after WTO entry?
I think there will be an increase of investment flow from agriculture-developed countries like Japan and the EU, not only the US.
The US is now ranked 9 among 74 countries and territories investing in Viet Nam with around 290 effective projects, totaling US $2 billion.
Notably, in the first 8 months of 2006, some 25 projects totaling US $444.2 million of American investors were licensed, ranking the third on the list of investors.
The biggest deal reached at the Investment and Trade Forum between Viet Nam and the America's AES Group is Mong Duong Power Plant worth US $1.4 billion.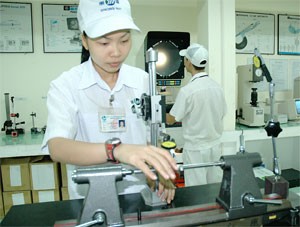 At a factory of Viet Nam's Strong Way Company, an exporter of motorbike spare parts, in Le Minh Xuan Industrial Zone, HCMC
Which initiatives did MPI put forward to deliver APEC's commitments on trade and investment liberalization?

MPI's initiatives and proposals were realized in the Ha Noi Declaration and Ministers' Declaration on strengthening the competitiveness of APEC small and medium enterprises (SMEs).

What is important in Ha Noi Declaration is that it encourages APEC members to share experiences of improving business environment and the competitiveness of SMEs in trade and investment.

What has MPI delivered the commitments on opening trade and investment?

MPI has correlated international laws before the National Assembly adopted the laws on investment and enterprises.

The ministry will keep the process of trade and investment liberalization on the right track.

However, administrative procedures are still hindering these laws from making any economic breakthrough.

What could you say to Vietnamese firms in the integration into the world?

I think Vietnamese firms are having more opportunities than challenges. Some sectors and industries have export potentials like textiles and garment, agricultural products, handicrafts, construction materials and food processing.

What Vietnamese firms should be fully aware of, I think, are their competitiveness on the international market and the legal system of their partners.

Thank you.