For the first time, textile and garment exports have exceeded crude oil to top the list of Viet Nam's highest export earners. This places Viet Nam on the list of the world's ten biggest textile exporters, the Ministry of Industry and Trade announced.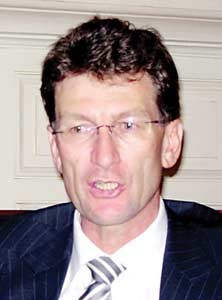 HSBC Deputy General Director David Morton

The future of Viet Nam's garment industry is quite optimistic, said Deputy General Director of the Hongkong-Shanghai Banking Corporation (HSBC) David Morton in an interview recently by Sai Gon Giai Phong.

According to HSBC officials, Viet Nam's garment industry has achieved stable annual growth rates. In 2006, textiles and garments earned an export value of US$5.9 billion, a year-on-year increase of 22 percent, and made up 17 percent of the country's GDP.

He also expressed his belief that after an increase of 31 percent over the corresponding period last year, surpassing US $5.8 billion, textile and garment exports will exceed the current target of US $7 billion. The figure has brought this sector to the top of the of the country's key export staples, he added.

Although it has not yet invested directly into the sector, HSBC showed its willingness to provide trade sponsoring services like letters of credit and document collections, export-import sponsorship, and online export-import transaction solutions.

When answering why a big financial group like HSBC decided to invest in textiles and garments, Morton said Viet Nam, with its own advantages, will further develop its garment and textile industry thanks to more investment.

"Recently, when I came to London for an important meeting, I wore "Made in Viet Nam" clothes", he said proudly.

The Ministry of Industry and Trade predicted that the garment sector will earn US$7.3-7.5 billion from exports. Viet Nam is currently behind China, the EU, Turkey, India, Mexico, Hong Kong and Bangladesh in the world's top ten largest garment exporters.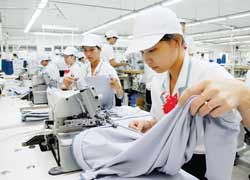 A production line of Nhat Tan Garment Company (Photo: Viet Dung)
Vietnamese firms' applying advanced technology to produce unique, value-added goods contributed to the success.

One of the largest firms is the state-owned Vinatex, which accounted for an estimated 22% of Vietnamese textile and garment exports in 2006.
One of Vinatex's affiliates, Viet Tien Garment Company, has invested more than US$10 million during the past five years in order to upgrade its production lines. Most of this new equipment has been imported from Japan and Singapore.

The future of the textile and garment industry in Viet Nam looks promising. Viet Nam joined the World Trade Organization at the beginning of 2007 and seems set to build upon its recent export success.
Moreover, the Vietnamese government is highly supportive of the textile and garment sector, and there are strong incentives to attract foreign investment. The government has outlined ambitious plans for the industry's development. If these plans are fulfilled, employment and exports in the sector will double by 2010.