UK-based research and advisory firm Economist Intelligence Unit has forecast Vietnam's GDP growth to plunge to 0.3 percent this year from 6.2 percent last year.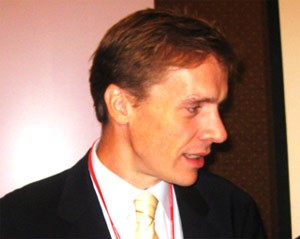 Justin Wood, director of Economist Intelligence Unit's Southeast Asia Corporate Network, pegs Vietnam's growth at 0.3 percent this year. He is in Ha Noi for an annual roundtable global business leaders hold with the Government. 
Justin Wood, director of EIU's Southeast Asia Corporate Network, told reporters in Ha Noi on March 16 ahead of a two-day Business Roundtable that after 20 years of healthy development, 2009 would be an especially tough year for Vietnam.
Yet, it would be one of very few Asian countries to actually achieve economic growth, with most others set to see their GDPs shrink, he said.
Demand for Vietnam's exports would be hit hard by the downturn, he warned. Inward remittances from overseas Vietnamese would fall, he said, as would FDI, which is likely to fall by 70 percent.
The property market has already slumped in major cities, and the number of unemployed people would almost double this year, he said, to over 8 percent from less than 5 percent last year.
This year would also be difficult for the credit market because banks would hesitate to offer loans to avoid risks during a recession, he said.
Mr. Wood is the co-chair of the roundtable that opened March 17.
Charles Goddard, EIU's editorial director and another co-chair, said "Vietnam's growth reached unsustainable levels in 2008."
"Inflation hit 30 percent during 2008, a widening current account deficit put strong downward pressure on the currency, and constraints like lack of infrastructure and weak regulations all took their toll."
If the challenges of 2008 were tough, those of 2009 would be even harder for the government, he warned, since the global economy has crashed into a serious recession.
Advice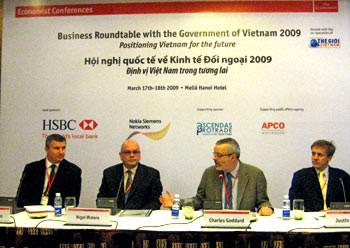 (From R) Justin Wood, who is also the co-chair of the roundtable; Charles Goddard, EIU's editorial director and another co-chair; Nigel Waters, country head of Nokia Siemens in Vietnam; and Thomas Tobin, chief executive officer of HSBC Vietnam, at a press briefing before the roundtable, on March 16.
Mr. Wood said investors are particular about infrastructure (power and transport) and skilled workers and Vietnam needs to improve these factors to improve its competitiveness.
"The World Bank has forecast that Vietnam will rank 92nd in the world in terms of investment environment in 2009, while it ranked 87th in 2008."
"Though Vietnam has tried to improve the investment environment, its environment has not been attractive compared to other Asian countries," he said.
The country also needs to step up its anti-corruption efforts and simplify taxation procedures. While an enterprise spends only 30 hours a year handling tax issues in Singapore, it has to spend 1,000 hours in Vietnam, he said.
The Government faces great pressure since it does not only have to cope with the economic recession but also has to ensure social welfare.
The experts who have gathered for the roundtable said the Government "must not lost sight of the longer-term challenges, namely upgrading infrastructure, stamping out corruption, and improving the policies and institutions that oversee the economy and financial system."
Thomas Tobin, chief executive officer of HSBC Vietnam, said the country remains an attractive investment destination.
"The global financial storm has raged in almost all countries in the world, and Vietnam is not an exception. Inflation and unemployment are challenges. We appreciate the Government's drastic measures. The country's inflation rate will reduce to 4 percent in mid-2009, then increase, and stabilize at 11 percent by the end of 2010," he said.
The Roundtable with the Government of Vietnam, the first of which was held last year, is organized by the Foreign Ministry's The Gioi & Vietnam (world & Vietnam) magazine and British publication The Economist's Economist Conferences.
The conference on positioning Vietnam for the future is being attended by over 300 local and international business leaders. It is sponsored by HSBC and Nokia Siemens Networks, among others.