The credit squeeze aimed at curbing inflation has forced many real estate firms to delay projects and change their business plans.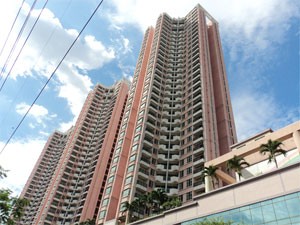 Many real estate firms had to delay projects and change their business plans as they expect more difficulties this year (Photo:Minh Tri)
In 2010, Ho Chi Minh City Electric Power Trading Investment Corporation, also known as Tradincorp, planned to invest in the construction projects on the residential zone Tan Tuc in Binh Chanh District and two office buildings in Tan Binh and Tan Phu Districts.
However, at the annual general meeting this year, the board of directors sought shareholders' approval to cancel the investment plan due to the frozen real estate market.
General director Mai Nguyen Thao said the cancellation also came from the fact that the government restricted loans on property projects this year.
On March 1, the State Bank of Vietnam ordered all lenders to limit credit to non-production businesses, including real estate projects, at 22 percent of total loans by June 30, and at 16 percent by the end of the year.
The government in February approved a plan to cut annual credit growth to below 20 percent from the initial target of 23 percent as part of a series of measures to curb inflation.
Analysts noticed that most construction firms expected more difficulties on the property market in 2011.
Despite a healthy after-tax profit of VND329 billion (US$16.45 million) last year, property firm Phat Dat set a cautious earning target of VND270 billion this year, while targeting a revenue of VND1.1 trillion, which is very low compared to last year's VND1.6 trillion.
Brokers said the income of the Ho Chi Minh City-based firm mainly came from the apartment building Everich II project in District 7.
Phat Dat earlier expected that more than 1,000 apartments in the building would be occupied completely in 2010, but only 166 were sold in the first four months of the year due to the bearish market.
Some builders targeted 2011's revenue that is higher than last year, but they expect to earn lower profit. Among them is Vinaconex 5, which set revenue of VND1.7 trillion ($85 million) and net profit of VND31.5 billion only.
In 2010, the Hanoi-based construction firm earned a net profit of VND41.4 billion from a revenue of VND1.6 trillion.
Some real estate firms now are seeking customers before implementing new projects to construct apartments, aiming to mobilize their capital, while others are accelerating the sales of products of existing projects to quickly recoup their investment.
 
"We predicted the difficult situation earlier, and prepared to deal with it," Nguyen Minh Tuan, vice director of construction firm Vinaconex 7, told Thanh Nien Newspaper.
"We signed contracts to buy construction materials when prices were low, and boosted our search for customers for the new projects before implementing them. Customers are an important capital mobilization channel in the current context."