Many property enterprises are struggling to survive the increase in building materials, electricity and gasoline prices combining with the government's tight monetary policy to tame inflation.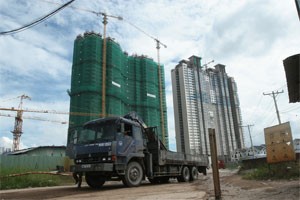 View of the construction site of an apartment building in District 2. Property firms are hit hard by the increase in building material prices and interest rates (Photo:Minh Tri)
Chairman Le Chi Hieu of HCMC-based construction firm Thuduc House said macroeconomic policies were making great impacts to the property market.
"It takes two years or more to finish a property project. Thus, construction firms need medium- and long-term loans. However, the tight monetary policy will raise interest rates, leaving builders struggling to borrow money from banks," Hieu said.
Efforts to cope with the increasing price and high interest rates have seen most property firms reduce investment, slow down the construction progress and focus solely on projects with high return rates, he noticed.
Construction companies are now speeding up their projects that almost finish.
Sacomreal and Malaysia-based Gamuda Land Ltd. are rushing to finish the construction of internal infrastructures, parks and apartment buildings' foundation of their new residential zone Ceradon.
The zone with the total investment of VND22 trillion (US$1.1 billion) and the area of 80 hectares in Ho Chi Minh City's Tan Phu District, is expected to debut by May.
Chairman Dang Hong Anh of Sacomreal said that the project was affected by the increase in building material prices and interest rates.
Therefore, the firm was considering on either keeping the price of $1,000 per square meters unchanged or offering a higher price with more financial solutions for customers, Anh said.
He also expected the total investment of Sacomreal would reach VND2 trillion ($100 million) in spite of the challenges this year.
HCMC-based Binh Chanh Construction Investment JSC determined to keep its price unchanged in spite of the increasing material prices.
General director Nguyen Thuy Nhan said the firm would delay small projects until the end of the year to focus on potential ones. The firm would also corporate with lenders to offer "flexible payment time" to customers, Nhan said.
Experts said only big property firms with large capitalization looked set to weather the difficult times this year, while small companies were hit hard.
Construction of an apartment building of an enterprise identified as D.T. in Tan Phu District has been halted since they struggled to find customers. Many buyers, who paid in advance already, also found themselves struggle to pay more as they hardly borrowed from banks.
HCMC-based construction firm Tai Nguyen Ltd., builder of the Kenton apartment building in Nha Be District, announced to recruit salesmen with the big monthly salary of VND100 million as the sales of the building were pretty slow.