Construction of six large fishing centers in Vietnam is estimated to cost VND14.6 trillion (US$649.32 million), reported the Directorate of Fisheries in Hanoi on November 23.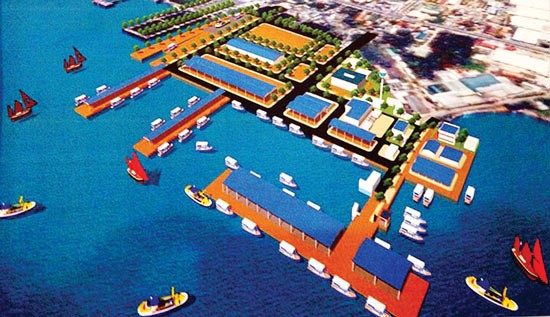 An artist's impression of Khanh Hoa fishing center
The report was made at the meeting chaired by the Ministry of Agriculture and Rural Development to implement the Prime Minister's instruction on planning and building large fishing centers in Vietnam.
According to the directorate, of the total capital, VND5.2 trillion will come from the state budget, VND1.6 trillion will be raised with Public Private Partnership mode and VND7.7 billion from businesses.
Among five localities selected to pilot building of the centers in association with Vietnam's main fishing grounds, the Government has offered the south central province of Khanh Hoa a special mechanism via transferring entire investment capital to the province.
The fishing center project in the central city of Da Nang is waiting for approval.
Leaders of the chosen localities said at the conference that so far only Khanh Hoa has determined the fishing center's location at Da Bac fishing port. Other five have yet to find out positions.
They have made commitments to speed up necessary works in order to start building fishing centers in 2017 and complete those in 2019-2020, said Deputy Minister of Agriculture and Rural Development Vu Van Tam.