According to Buon Ma Thuot Coffee Association, the Central Highlands province of Dak Lak has filed geographical indication (GI) to Buon Ma Thuot coffee brand in 17 nations and territories worldwide and so far 12 have agreed to protect the brand name.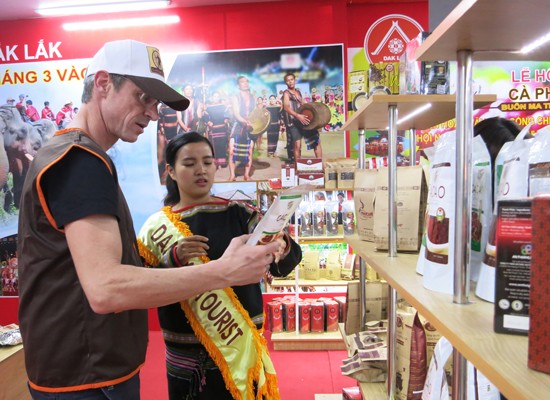 A foreign visitor leaning about Buon Ma Thuot coffee products (Photo: SGGP)
Countries refusing the application include the US, the UK, Japan, South Korea and Switzerland.
Chairman of the association Trinh Duc Minh said that the registering for GI recognition was a long and costly period, needing large export firms especially the ownership representative of the trademark to join hands.

Mr. Minh said that the association has stopped filing the GI application for Buon Ma Thuot coffee brand in the five countries because of huge cost and unclear success possibility.

Buon Ma Thuot is a city of Dak Lak province where is home to 200,000 hectares of coffee with average output of 450,000 tons and export value of $500-600 million a year.

The province is named the metropolis of Vietnamese coffee. The first coffee tree was planted in the province 100 years ago.

In 2005, the National Office of Intellectual Property of Vietnam granted patent right to Buon Ma Thuot GI in ten years for 100,000 hectares in eight districts of Dak Lak with the output of 47,500 tons.

Of these, only 20,000 tons with Buon Ma Thuot GI have been advertised and exported with the added value of 2-3 percent.
Dak Lak started paying attention to the GI application abroad after a Chinese firm registered Buon Ma Thuot coffee brand's protection in its country in 2010.

After two years of doing legal procedures to require abolishment of Buon Ma Thuot coffee protection in China, the country accepted the requirement in February 2013.

The Buon Ma Thuot coffee brand which belongs to ownership of the Dak Lak People's Committee has been protected in China under the form of collective brand name since mid  2014.