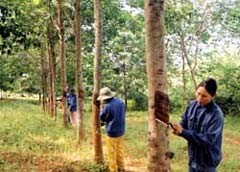 Knife blades silently cut scratches into rubber tree bark to extract drops of silver and gold sap.
· Viet Nam, Laos to Grow Rubber Trees
Viet Nam and Laos signed a contract yesterday to plant rubber trees and other industrial crops and begin construction of a rubber-processing factory in Laos' central province of Savannakhet.
Signing the contract were Mr. Thongmi Phommisay, Vice Chairman of the Lao Planning and Investment Committee and Mr. Le Minh Chau, Vice General Director of the Vietnam Rubber Industry Group and CEO of the QUASA-GERUCO Joint Stock Company.
· Construction of First Container Production Plant Kicks Off
The Viet Nam Shipbuilding Industry Corporation (Vinashin) started construction of a US$22-milllion container production plant in the northern province of Hai Duong. Taiwan-based Toong Goen Corporation is a co-sponsor of the project.
The facility is the first of its kind in Viet Nam and has a capacity of 30,000 TEU (twenty-foot equivalent units) per year, enough to meet the rising demand from both local and international fleets operating in Viet Nam. In the project's second stage, output will be increased to 60,000 TEU per year.
· Sun Wah Seeks Opportunities to Increase Investment in Viet Nam
Hong Kong-based Sun Wah Group is much interested in some of the major real estate projects currently being developed in Ho Chi Minh City such as the Thu Thiem new urban area and the Saigon High Tech Park, said Chairman Jonathan K.S Choi in his recent working visit to Viet Nam.
Mr. Choi said the group's 22-storey Sun Wah building in Ho Chi Minh City is full now and he is planning to develop another tower in the city. The group's first building, worth US$70 million, is located on Nguyen Hue Boulevard and is expected to be listed on the Vietnamese stock market within this year.
The Chairman also visited Ha Noi and the northern province of Vinh Phuc on his fact-finding mission.
Sun Wah Group is currently the single largest stakeholder in a joint venture developing the US$400 million Saigon Pearl residential and commercial complex in the city.