Officials in the South must take measures to develop the economy and improve business conditions, Prime Minister Nguyen Tan Dung told yesterday at a training course for officials from southern cities and provinces.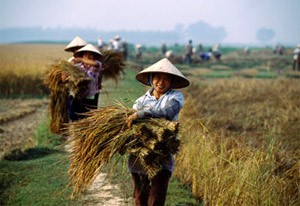 Prime Minister Nguyen Tan Dung asks authorities in Mekong Delta provinces to support farmers
He said administrative procedures have to be simplified to step up production, business and export, and requested sufficient funds and power for production.
 
Disbursement of funds from the state's budget and government bonds has to be implemented properly for approved projects and carried out by all companies without prioritizing state-owned ones.
 
Local authorities should work closely with enterprises to help them overcome administrative difficulties, he said.
 
The prime minister also said it was necessary to strictly punish speculation and smuggling. Prices have to be monitored tightly, especially power, coal and water prices have to remain unchanged.
 
He pointed out that beside objective causes, culprits of the country's inflation are also the poor management and loose monitoring the monetary market.
 
Because of inflation, which also affects production costs, Mr. Dung has asked localities to solve any production and export difficulties and improve conditions for investors by effectively using investment resources and quickly solving administrative procedures.
 
However, he said, together with attracting foreign investment, provinces have to pay attention to environmental protection. Local authorities have to strictly tackle environmental pollution caused by ongoing projects.
 
As for the Mekong Delta provinces, the Mr. Dung told localities to concentrate on harvesting the summer-autumn rice crop and offering a reasonable price for it to support farmers.
 
Mr. Dung also commented on the country's socio-economic situation. He said that in the first seven months of this year, Viet Nam's economy reflected the results of high agricultural production, the lifting of foreign-direct investment to US$45.2 billion and a 37.7 percent increase in export turnover.
 
Thanks to strict control, Mr. Dung said that imports were being reduced and that the trade deficit was gradually narrowing. In July, the consumer price index increased by only 1.13 percent, the lowest since early this year.