Businesses expressed a desire that Ho Chi Minh City would early have a specific mechanism to develop support industry during a recent business trip by the city People's Committee Deputy Chairman Tat Thanh Cang.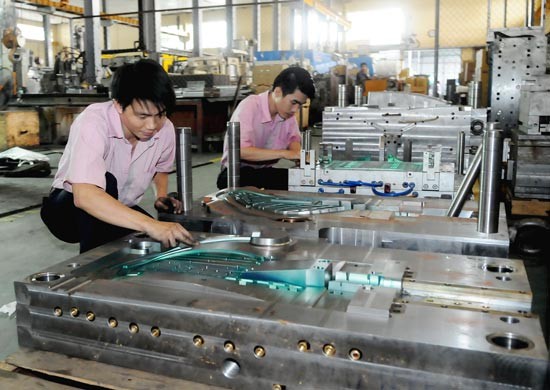 Production of precision molds at Lap Phuc Company (Photo: SGGP)
The Government has issued a lot of policies to develop the support industry. However they are implemented in a complicated and asynchronous manner by authorized agencies, creating difficulties for enterprises to access incentives, said a manager from the Saigon Transportation Mechanical Corporation.
In surveys by the HCMC People's Council Delegation, businesses from manufacturing engineering sector have lamented about difficulties in accessing loans from the city's demand stimulation program. Even those who own large property value and profitable operation also face with the issue.
None of domestic enterprises and only one foreign company have been able to access incentives from policies on the support industry development, said head of the Legislation Department under the Ministry of Industry and Trade Nguyen Sinh Nhat Tan at a seminar in HCMC on October 2.
Deputy Chairman Tat Thanh Cang said that the city has proposed the Government to release a specific mechanism to develop the support industry and create main products in the city's support industry.