Shipping lines have taken advantage of the ongoing overloading at Cat Lai Port, one of the main ports in Ho Chi Minh City, to charge additional fees over export and import companies whose operation has been affected because of congestion at the port.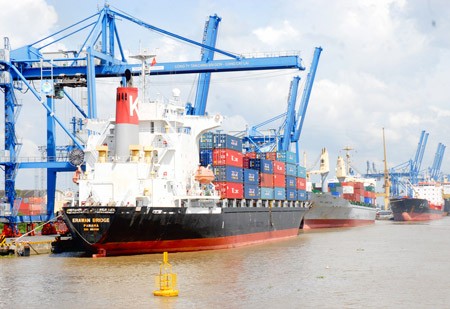 Cat Lai Port (File Photo: SGGP)
Saigon Newport Corporation (SNP) has increased fees on container lifting and demurrage services since July 15, said the companies.
It costs VND275,000 now to lift a 20 feet container of frozen and dried goods from the port's container yard to delivery trucks. The new costs for 40 and 45 feet ones are VND485,000 and VND570,000.
These prices are applied on goods that are stored in the container yard within 6 days and double on goods stored from the 7th to 15th day.
SNP deputy director Ngo Trong Phan said that the congestion has affected its productivity and service quality. The fee increase is to encourage customers to take their goods earlier reducing the yard storage time.
However, several businesses said that it depended on several factors for them to get cargos from the port. For instance, they must wait for authorized agencies to examine the import goods and the port authority to arrange forklift trucks to remove containers for scanning.
Taking advantage of the condition, shipping lines have charged 'port congestion fees' on import goods at Cat Lai, according to director of a logistics company.
The shipping lines said that the additional fees are to make up costs arising from the congestion at the port.
In addition to the fee increase, SNP has announced not to receive containers of import goods from other ports in HCMC and Ba Ria-Vung Tau Province to reduce the congestion from August 1. These goods are transported to Cat Lai for delivery.