The government's economic stimulus package, implementation of the policy to provide support to poor people during Tet and recession were discussed at the conclusion of the regular monthly Cabinet meeting on March 3.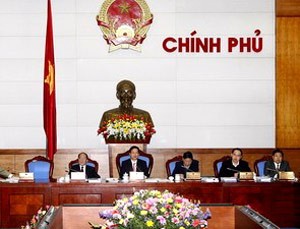 The Cabinet in its monthly meeting on March 2-3
At the meeting, Prime Minister Nguyen Tan Dung asked ministries and related agencies to continue to strengthen administrative reforms and anti-corruption drives.
 
He said measures need to be taken to avoid corrupt use of the economic stimulus package.
 
The implementation of the estimated $6 billion package must be open and transparent. The government will adopt measures to check and monitor the implementation to prevent misuse, he said.
 
The PM said the package has had initial effects, adding that the economy had shown healthy signs in the past two months, such as stability of the macro economy, social welfare, banking and a trade surplus of $290 million.
 
PM Dung said that the government has effectively prevented a more serious economic downturn, solved production and business difficulties, maintained economic sustainability and ensured social welfare and security.
 
The PM urged ministries and related agencies to continue to develop the package and take further measures to prevent recession from occurring.
 
VND300 trillion ($17.2 billion) will be spent this year to build infrastructure, boost production and exports, and carry out social welfare projects.
 
To boost exports, the Industry and Trade deputy Minister, Nguyen Thanh Bien, said his ministry will help create favorable conditions for foreign importers to come to Vietnam for marketing and sign export contracts.
 
PM Dung said that every minister, agency head and municipal and provincial People's Committee chairmen must maintain the highest sense of responsibility in carrying out the government's economic measures.
 
The Ministry of Labor, Invalids and Social Affairs was ordered to keep a close watch on employment to be able to adopt timely solutions.
 
At a press conference about the regular meeting on March 3, Chairman of the Government Office Nguyen Xuan Phuc said the policy to help poor people in most areas had been a success.
 
Most of the poor throughout the country have benefitted, he said.
 
However, some fraudulent acts have taken place in a few areas.
 
The PM instructed local authorities to evaluate the implementation and solve problems, if any, seriously and publicly, he said.
 
PM Dung asked local authorities to assure beneficiaries they will receive all money which they are entitled, he added.
 
Until the end of February, local authorities gave out VND1.7 trillion to 2.1 million poor households.
Related article:
Vietnam enjoys trade surplus