Viet Nam's socio-economic situation improved in May and the first five months of this year, but agriculture still faces difficulties, attendees of a regular Cabinet meeting said yesterday.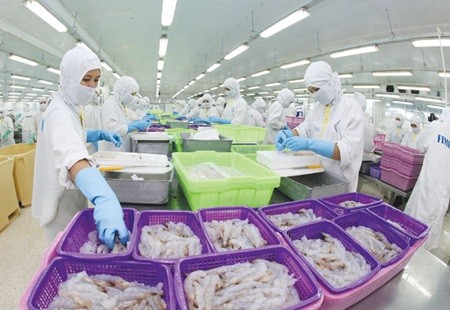 Workers process shrimp for export at Soc Trang Province's Sao Ta Foods JSC. Viet Nam's total exports were estimated at US$63.2 billion, up 7.3 per cent on the year. (Photo: VNA/VNS)
According to a report by the Minister of Planning and Investment, Bui Quang Vinh, the macro-economy so far this year has been on the right track.
In May, the Consumer Price Index rose 0.16 percent over the previous month and 0.2 percent over the same period last year, he noted, adding that during the first five months of the year, total exports were estimated at nearly US$63.2 billion, up 7.3 percent year on year, while imports were $66.2 billion.
The number of new start-ups and their combined capital surged by 15.5 and 26.3 per cent, respectively. The number of enterprises resuming operations rose 5.9 percent. Foreign Direct Investment (FDI) to Viet Nam reached US$4.95 billion, an increase of 7.6 per cent. The Official Development Assistance (ODA) disbursement rate hit $749 million, an increase of 11.8 per cent on the year.
Minister of Agriculture and Rural Development Cao Duc Phat reported that the prolonged drought in the central and Central Highlands regions, as well as the stagnation in the export of a number of agricultural products, adversely affected production and farmers' lives.
The ministry would push crop and animal restructuring in drought-hit areas, while continuing to promote the application of advanced technology to raise the production, quality and competitiveness of produce, the minister said.
Minister of Industry and Trade Vu Huy Hoang said that along with speeding up negotiations for free trade agreements between Viet Nam and partners, the ministry would work with other ministries to seek new markets for farm produce – especially key products like rice, coffee, rubber, seafood and vegetables.
At the meeting, Minister of Culture, Sports and Tourism Hoang Tuan Anh said the number of foreign visitors to Viet Nam so far this year was lower than to other countries in the region. He suggested that the Government ramp up tourism promotion activities, as the country had recorded a decrease of 12.6 per cent in the number of international arrivals.
Other Cabinet members agreed that it was crucial to make tourism leading economic sector. It was necessary to remove administrative barriers to attract visitors while opening more direct air routes from Viet Nam to promising markets, they said.
Concluding the meeting, Prime Minister Nguyen Tan Dung asked cabinet members to make more efforts to remove agricultural difficulties, speed up restructuring and boost the sector's sustainable growth.
He continued to stress the need to ensure macro-economic stability, improve business environments and enhance Vietnamese enterprises'competitiveness.
He asked the State Bank of Viet Nam to better manage the exchange rate, regulating interest rates to maintain the macro-economy, and support business and production at the same time.
The PM urged the bank to keep a close eye on the property market to make sure the sector grows.
He also required Cabinet members to prepare reports for the National Assembly's 9th session and take the initiative in providing accurate information to National Assembly deputies and voters.